Next month, Copenhagen begins its year as
European Green Capital
. The European Commission officially crowned the city on 18 December. It has gained the recognition for its green efforts, including reducing carbon emissions, cleaning its harbour area to make it safe for people to swim, and becoming friendlier for pedestrians and cyclists.
The city takes the European Green Capital title from Nantes, France. The previous winners are Stockholm, Hamburg, and Vitoria-Gasteiz in northern Spain. In June, the British city of Bristol was named European Green Capital 2015, beating cities such as Brussels and Glasgow.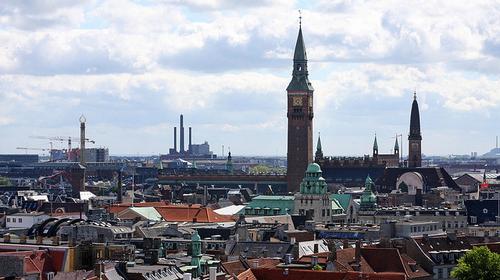 Frank Jensen, mayor of Copenhagen, said in a press release that it aims to be a case study for other cities. "We will share our knowledge and show examples of how to develop sustainable urban solutions with other cities."
What has the city been doing? Regular readers will know all about its record as a cycling city and how it is a case study for the Danish architect Jan Gehl's ideas about people-friendly urban planning. Here are five things you might not know about Copenhagen.
Carbon neutral by 2025: The Danish government wants to show it is possible to achieve economic growth, boost quality of life, and cut carbon dioxide emissions. That is why it approved a plan in August 2012 to go carbon neutral by 2025. The city is a leader in developing wind power technology; 28% of its energy comes from this source. This report by the consulting firm Sustainia from last year predicts what the city will be like in 2025.
Scandinavia's biggest sustainable urban development: The city plans to create a sustainable district in Nordhavn (North Harbour) on an area of 741 acres. The district would house 40,000 people, 40,000 workplaces, and a "green lab" to develop ecofriendly technology. It would generate enough power to be carbon neutral early on and then start exporting power to the rest of the city. This seems great, but it is also a long-term project set to last 40-50 years. We'll keep an eye on the plan to see whether it meets these ambitious aims.


Disease research cluster: Copenhagen and Malmo in Sweden are connected by a bridge over the Oresund Strait. Since 1997, they have been working together on an initiative called Medicon Valley. This area, a regional stronghold for research in life sciences and biotechnology, includes 12 universities, 32 hospitals, and at least 300 companies in the life sciences sector. It is known for its strong research into neurological disorders, cancer, diabetes, and other diseases. This may not be a green initiative, but it is still focused on making lives better.


Organic food switch: Copenhagen has a well-developed organic food network, and the city has set a goal: By 2015, 90% of food served in public-sector kitchens will come from organic sources. The figure is currently 75%. The Copenhagen House of Food, a noncommercial foundation to improve the quality of public-sector meals, is leading the switch to organic food. It says the change makes meals healthier, reduces the amount of pesticides going into the city's water supply, and supports local food producers.


Public private partnerships: The European Commission attributed Copenhagen's success to the strong partnerships among businesses, universities, and the public sector to develop and implement its green plans. Initiatives such as the Copenhagen Cleantech Cluster have been important in supporting Danish clean-tech businesses and attracting foreign clean-tech firms to the city.
If you want to read a full copy of the European Commission's detailed technical assessment of Copenhagen's Green Capital bid, here it is. Don't say I never got you a Christmas present.
Now I just need to work out what to get my wife.
Related posts:
— Rich Heap, Community Editor, UBM's Future Cities