The European Commission yesterday unveiled a
new plan to reduce air pollution in cities across Europe
. We Europeans have spent all day breathing air in celebration.
Except, we haven't. We haven't been celebrating because EU targets on air pollution are not very interesting, unless you're an anti-pollution campaigner or know somebody who suffers from asthma. The European Commission says air pollution prematurely kills more people in Europe each year than road traffic accidents, and yet still we don't really care.
The commission plans to introduce stricter limits on pollutants from vehicles and buildings from 2030. It said this would help to avoid 58,000 premature deaths each year caused by breathing problems, cancer, and heart disease. It also estimated that the direct cost of air pollution to society, including damage to buildings and crops, amounts to €23 billion ($31 billion) a year; and the benefits of the package would be €40 billion ($55 billion) a year.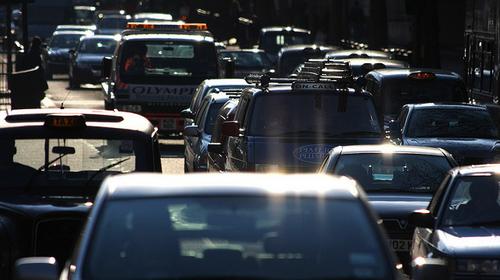 But it's still tough to get many people in Europe to take an interest in urban air pollution. The simple reason for this is that the air looks clean so there isn't much to worry about, right? Yet there'd be uproar if anything else caused 58,000 premature deaths a year.
The reason this is important is that there are elements of the European Commission's plan that are worth getting angry about. Anti-pollution campaigners have criticized the plan for planning to introduce the stricter standards in 2030, and not 2025 as previously expected. The campaigners said the commission has weakened its plan to satisfy businesses that say they need more time to reduce emissions from their products, and nations like the UK.
We should be demanding that governments take fast action on air pollution, but we don't.
I don't even see why the UK needs five more years. It's not like we'll bother trying to meet the targets anyway. Rather, our politicians are likely to devote their efforts to trying to weaken the rules during debates on the plans in the European Parliament and European Council.
The European Commission will try to get countries and cities to comply. It has warned that cities like London face significant fines if they don't dramatically reduce vehicle emissions by 2020, using policies like stricter low emissions zones for vehicles.
Now, I appreciate that air pollution in London is a far smaller problem than it is in some other countries. This month, smog has been at extremely hazardous levels in Shanghai and other cities across China; and this week, people in the Indian capital New Delhi have been confronted with thick smog. What I have found positive about the reaction in those countries, especially China, is that people are getting really angry about air pollution.
They have ridiculed attempts by the state-run media to put a positive spin on the fog by saying it is good for national security as enemies don't know where to aim missiles. They are putting pressure on the public and private sectors to use technology and data to find ways to change transport, industry, and power generation to improve air quality.
This pressure is also leading to technological innovation. For example, Shanghai company Frog Design has come up with a prototype for an air filtration mask that cleans the air as people breathe, and also connects to a smartphone to tell them about the pollution level in their area and exactly what chemicals they're breathing in. It looks really interesting.
It's easier to get people to care about a problem when they can see it, of course. A brown blanket of fog across a city will have a bigger impact in getting people to take action than invisible pollutants. It's just a shame that we're not putting the European Commission and city officials under more pressure to act quickly. For some, it's a matter of life and death.
Related posts:
— Rich Heap, Community Editor, UBM's Future Cities