If you tell someone your wish it won't come true. This universal law of wish-making is why our city Christmas list for Santa remained under embargo.
Now that Christmas Day is here we can finally reveal the 14 wishes (in no particular order) that we want to see come true for cities in 2014:
1. More pop-up public spaces. Planning new public spaces can take a lot of time as city authorities wade through traffic plans and impact assessments. We want to see more cities experimenting with short-term changes in public space to work out the ones that people like best.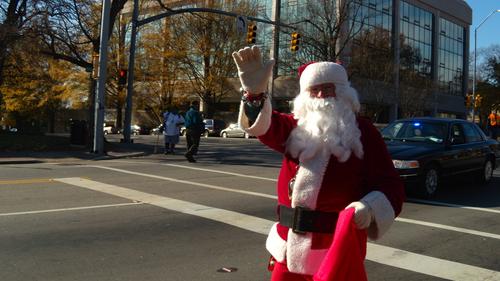 2. Talking lamp posts. Fun is important, and one of the most fun projects we heard this year was Hello Lamp Post in British city Bristol. Production company PAN Studio ran a project that let people interact with 1,100 items of street furniture including lamp posts and post boxes. Here's a video:
3. Urban urine harvesting. I reported last month on the campaign in Amsterdam to install temporary urinals in La Place de la Bourse. The aim was to collect urine and extract the phosphates to turn it into fertilizer. We'd like to see the campaign continue and these urinals become a permanent feature in Amsterdam -- and with waterless toilets so women can "donate" too.
4. More high-tech retailers. We like "click and collect" and online delivery lockers in stations and buildings, and want to hear about new tech innovations. Will more cities get virtual clothing stores, like the one in Seoul, that let you try on clothes without getting undressed? Will retailers embrace smart trolleys that show you the products you're looking for? And what about delivery drones? Bring them on.
5. Air-purifying bikes. Bangkok firm Lightfog Creative & Design has come up with an idea for an "air purifying" bike that it claims will clean polluted city air. The bike has an air filter in the handlebars that uses an onboard battery to mimic photosynthesis and cleanse the air.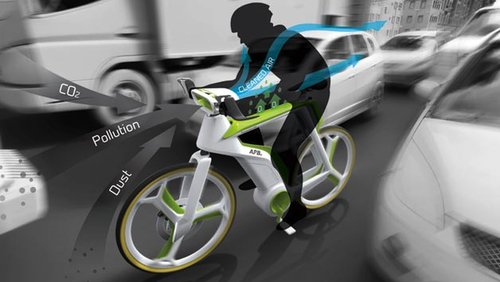 OK, so there isn't a prototype yet, and we've got questions over how much air that dinky purifier will actually be able to clean, but we'd like to see if one can deliver on that promise.
6. More protected bike lanes. While we're on the topic of cycling in cities, we want to see more protected bike lanes. Improving cycling infrastructure is vital for cities that want to be true "cycling cities."
7. Completed World Cup stadiums. The World Cup is due to start in Brazil on 12 June, and we hope Brazilian cities can get their stadiums ready in time, despite a threatened national strike by construction workers over site safety fears. We hope the rush to build stadiums doesn't further compromise safety standards.
8. More mobile museums. Last month we met Sam Aquillano, co-founder of the Design Museum Boston, to talk about why it makes sense to run a mobile museum in public spaces and commercial buildings around the city. This can help museums engage with the public, take exhibitions to areas of the city that need revitalizing, and bring empty buildings into short-term use.
9. Flash mobs everywhere. Nicole won't be satisfied until cities are like musical theatre, and so wants to see more flash mobs in 2014. She says they're "fun, encourage community, improve people's morale, and make public spaces exciting." I'm not convinced, but you can't ignore the boss! Here's one from Copenhagen to raise your spirits:
10. Regeneration through $1 homes. Earlier this year we heard how Gary, Ind., is trying to revitalize rundown neighborhoods with its "Dollar Home Program." This allowed a handful of citizens to enter a lottery to win a house for $1 that they will renovate and live in. We have seen a similar £1 house scheme in British city Stoke-on-Trent, and it is worth considering for deprived areas.
11. No floating car parks. Istanbul announced plans this month to introduce floating car parks on out-of-service ferries to help it deal with its traffic problems, but we're not convinced. Building new car parks and roads does not reduce the problem of traffic. Rather, it exacerbates it.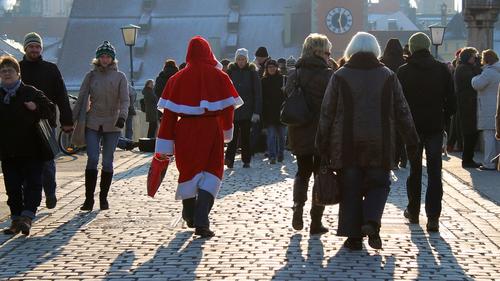 12. Liveable skyscrapers. We enjoy hearing about overblown skyscraper schemes, but we want to make sure they're integrated in cities. How about skyscraper developers focus on making their towers more liveable, and more accommodating at ground level, rather than tallest or weirdest looking? Well, we can hope...
13. Welcome, Mayor Slime Mold. My visit to the RE.Work Cities conference in east London on 13 December opened my eyes to the power of slime mold in helping engineers improve transport networks, but how else can we harness its intelligence? Will 2014 be the year we see a Mayor Slime Mold? If you look at some mayoral behavior this year you may think slime mold is over-qualified.
14. And now it's over to you... That's enough from us. Our last wish is for you to show us yours: What would you like to see in your city in 2014? And how likely do you think it is to happen? Let us know, and we hope you have a great and festive end of year.
Related posts:
— Rich Heap, Community Editor, UBM's Future Cities