How do men and women use London's bike share scheme differently? This question is at the heart of a study by the
School of Informatics
at London's City University. A very oversimplified answer: Men for business, women for pleasure. Yes, it sounds like a motto from the
Mad Men
era.
The school published research in October that analyzed 10 million journeys in the scheme in the 12-month period that ended September 2012. This showed that men were more likely to use bike share for commuting, while women were more likely to use bike share for leisure journeys, particularly around London's parks. It also showed that, during nonleisure journeys, women were less likely than men to travel on busy roads.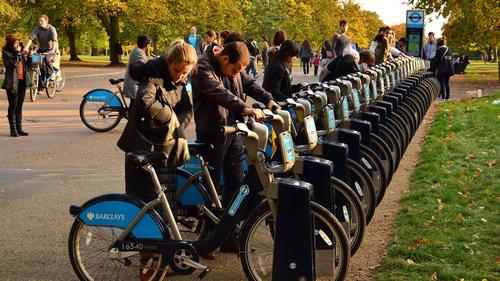 This isn't just data analysis for the sake of it. Transport for London, which runs the bike share scheme, is backing the research so it can do more to increase its appeal to groups and areas that are under-represented. PhD student Roger Beecham is carrying out the study under the guidance of Jo Wood, a City University professor of visual analytics.
Beecham explained to me during a phone call that the research relied on two datasets. The first is the customer database where all those registering for bike share inputs their gender and postcode, which are then attached to an ID number. The second is the record of journeys attached to this ID number, showing how long they took and the docking stations at which they started and ended.
Beecham was able to analyze journeys made by 135,000 scheme members. The data does not map precise journeys taken, but it does give an idea of the routes people take. The results showed the most popular routes among male members were between big commuter hubs (like Waterloo, King's Cross, and Liverpool Street stations) and business districts in the City of London and West End. Most of these were in commuting hours. For women, the most popular routes were journeys around Hyde Park and other trips starting and ending at the same docking station. Also, women made 22% of their trips at weekends, compared with 16% for men, and more men continued to use the bike share scheme regularly after signing up.
The research also found that men made 72% of the total recorded journeys. It is a striking statistic when you think that more women than men cycle in bike-friendly cities like Copenhagen or Amsterdam. It also shows how far London has to go to improve its cycling infrastructure to attract cyclists of both sexes.
"The bike share scheme was set up to make London more cycle-friendly and attract cyclists to London," said Beecham. "They want people to try the bike share scheme for a few times and then buy their own bike."
Beecham reports findings to Transport for London every quarter, and it can use the information to help promote the scheme to different groups and people living in different parts of London. It could also use the data to plan network maintenance and work out how to incentivize people to take trips at different times of the day.
There are some limitations to the data, though. Beecham said it covers only regular users who are signed up for the scheme, rather than casual users who use it for one-off trips. Even so, it is an interesting contribution to London's cycling debate.
Related posts:
— Rich Heap, Community Editor, UBM's Future Cities