Embrace bacteria. Respect slime mold. They are your friends.
On Friday, I attended the RE.WORK Cities conference at Tobacco Dock in Shadwell, East London, and found out that cities can use bacteria and other tiny organisms in planning and urban development. These organisms could help buildings to last longer, transport networks to run more efficiently, and help buildings to clean the air. Here are three ways that nature and cities can work together:
Self-healing concrete
Erik Schlangen, chair of experimental biomechanics at Delft University of Technology in Eindhoven, Netherlands, explained how bacteria can help concrete to last longer. Concrete is strong, but it is also susceptible to water damage if it becomes cracked. Bacteria can help.
Schlangen explained that developers could solve this problem by infusing concrete with a type of bacteria that produces calcium when it gets wet. If a crack appears then water would get in and the bacteria would wake up and fill the crack with calcium, and then go back to sleep until it gets wet again. Here is a video from Delft that explains further:
Slime mold transport networks
David Benjamin, founding principal of architecture firm The Living, explained how slime mold is being used to help cities and countries plan transport networks. Slime mold can work out the most efficient routes between different lumps of mold, and so, if cities can use these lumps to represent areas they want to connect, the mold can suggest routes.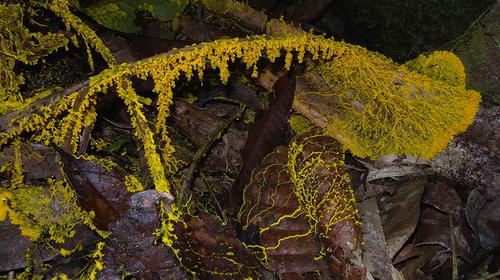 If you click on this link then you'll see a great video about the principle. Even though the properties of slime mold and their relevance to urban planning have been known for a few years, it's the first I've known about it, and it is inspiring Benjamin's other work. Benjamin said that The Living is now looking to learn about the growth patterns of stem cells and visualize these to see if this information can help urban planners.
Coral-shaped building facades for air cleaning
Allison Dring, co-director of design bureau Elegant Embellishments, discussed her firm's new smog-busting building fašade. OK, it uses chemical reactions rather than natural organisms to clean the air, but the design is based on natural organisms like coral.
The product is called proSolve370e, and it's a decorative architectural tile that can help to reduce air pollution. The tiles are covered in a superfine layer of titanium dioxide, which breaks down smog into substances like calcium nitrate, carbon dioxide, and water when it is hit by the sun's UV rays. The coral-like design slows down the wind speed around the building, which allows the surface to clean more of the air. The first building to use this technology is the Hospital Manuel Gea Gonzalez in Mexico City.
Here is a video of discussion of this technology at September's TedX Berlin conference:
Related posts:
— Rich Heap, Community Editor, UBM's Future Cities