Earlier this year, a group of 15 architects and planners cycled 4,300 miles through US and UK cities to learn how to improve cycling infrastructure. Now they have reported.
In March, Future Cities reported on this project led by Peter Murray, chairman of think tank New London Architecture, to find out what US cities can teach us about urban cycling. From April to July, he led his group around Portland, Minneapolis, Milwaukee, Chicago, Cincinnati, Indianapolis, Pittsburgh, Philadelphia, New York, Cardiff, Bristol, Oxford, and London. As well as experiencing cycling in these cities, they also met local officials and advocacy groups.
This week, the group presented its findings to the Greater London Authority and London mayor Boris Johnson. The report is timely because Johnson has come under fire over the last month for his response to a spate of cyclist deaths in central London in early November.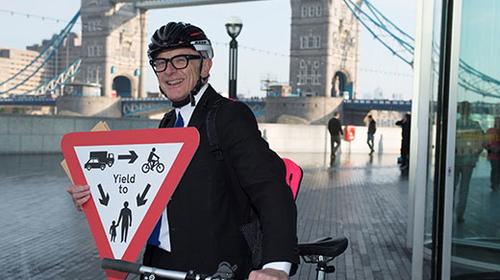 The report starts by focusing on how safe cycling networks have been rolled out in US cities, and the key role that leaders have played in these changes. The riders in the group said they were struck by how often US cities remind people of the benefits of cycling, and linking it to family life, safe streets, and health. It said it was good to see US cities celebrating success.
Political leaders can't do it alone, though. Cycling advocacy groups play an important role in acting as a sounding board for US cities on issues like health, safety, and efficient transport.
And transport agencies must work hard to counter misleading arguments from the car industry about how cyclists make the road network less efficient. It quoted a recent study in New York indicating that businesses benefit from the slower footfall of pedestrian and cyclists around bike lanes, and referred to other studies that show how cyclists don't impede motorists.
Central government is also vital. The report said far less would have happened in US cities if there hadn't been pump-priming funds from Federal resources to invest in infrastructure up front. And transport authorities must make sure to maintain this infrastructure. In busy cities like New York and Chicago, the weight of traffic takes a great toll on cycling road markings, and poorly maintained cycling routes make cycling seem more dangerous.
Using this information it came up with six key recommendations for London:
We must actively change the culture of driving and its relation to cycling: The city can do this through public information about safe cycling, and having police on the streets following the spate of deaths in November has helped improve behaviour. We must now make this permanent using advertising and digital media.


We should continue the move to separated cycle lanes where appropriate: The safety benefits of these are clear, but they will only ever cover a fraction of the road network in London. This must be done in addition to changing drivers' behaviour.


Some parts of central London are well suited to use as shared spaces: Villiers Street at Embankment and Monmouth Street in Covent Garden have become civilized spaces in which pedestrians, cyclists, and motor vehicles share space. The Greater London Authority must implement similar projects in other parts of the city.


The Golding Rule: In November, planning consultant Francis Golding was killed by a left turning coach in central London. The group has proposed that drivers must give right of way to the more vulnerable, and will work with the industries including construction to improve vehicle safety by using technology and changing driver behaviour.


Adopt the "Three Foot Rule": It is a legal requirement in 22 US states that drivers must give adequate space when passing cyclists -- three feet or one metre. London must also look at introducing "sharrow" marks used in the US and Canada that shows where cyclists have the right to ride in the middle of the road where cars canít pass.


Implement a Complete Streets policy: Transport for London and local authorities must design and operate roads with all road users in mind, including cyclists and buses.
These ideas are all good fodder for the ongoing debate about cycle safety in London. When Murray started this project, I bet he never imagined it would be quite so timely.
Related posts:
— Rich Heap, Community Editor, UBM's Future Cities