Urban designers must do more research on how their plans affect people's quality of life.
On Friday, Danish architect Jan Gehl, founding partner at Gehl Architects -- and arguably our favourite urbanist -- gave a keynote speech at the Royal Institute of British Architects annual research symposium. He highlighted how architects needed to focus less on wacky building designs, and more on the quality of life of the people who live and work in cities.
One of his criticisms was that architects design buildings and public spaces but don't often go back after they're built to see how people use them. This means that are missing out on opportunities to refine and improve their designs. Gehl said this is in contrast to other professions where people test and research their schemes so they can make them better.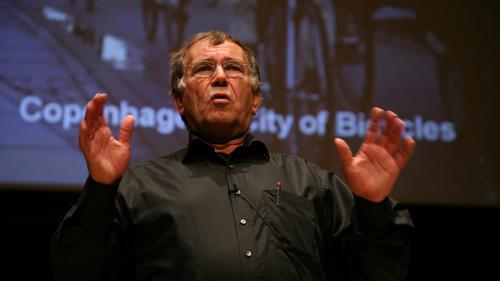 He argued architecture is now too focused on designing buildings that look interesting at a distance, but don't necessarily work well up close. Gehl said part of the problem is that "starchitects" design buildings that are out of context with the cities they are located in.
"We now have birdshit architects that fly around and drop buildings everywhere," he said. "The architects have been utterly confused. We have seen an increasing focus on form. Architects are now competing on form."
Gehl argued that architects try to get around this by drawing computer generated images of their schemes fully of happy people, which make schemes look good even when they're not. He said: "You can always draw this and then you find it doesn't work after all. There is not much concern and there is not much knowledge."
The result of this is that city leaders, developers, and architects have become fixated on making sure they have the largest, biggest, and the highest buildings: "Do we have any evidence that cities function better with this form fixation? We have no evidence."
Gehl also gave one of his favourite examples, Brazil's capital Brasilia, which was designed in the shape of an eagle that looks great when viewed from the air but not when viewed at ground level: "They didn't think that not everyone has a helicopter to enjoy the city," he said. This returns to the main focus that runs through Gehl's work, which is people-friendly cities that put quality of life first.
He argued that architects and planners need to focus more on analyzing the ways people use buildings, public spaces, and transport systems. This links in with the theme of a new book he co-authored, How To Study Public Life, which came out in October. This book summarizes some of the ways people can analyse whether cities are people-friendly.
Increasingly, city leaders will aim to do this using big data, by gathering information about how the city is used from sensors and technology. However, it is no substitute for having people who can analyse the data and use that knowledge to improve schemes in future; and it is also no substitute for urban designers who consider quality of life in their designs.
He concluded that those involved in urban design needed to do more research.
"There is appallingly little research done in what these cities mean for the people who live there," he said. "The world is full of brilliant designers, and I admire the traffic engineers for their research, but we desperately want programmes that are just as good as their designers."
Related posts:
— Rich Heap, Community Editor, UBM's Future Cities