Writing a Christmas list to Santa can be tough. One year, seeking inspiration, I went through the Argos catalog and wrote down everything I wanted.
Games, toys, technology... the lot! I don't know if this list was ever posted, or if Mum kept it as a love letter to my greed. Either way, that Christmas Day was a little disappointing as few of the requested gifts turned up.
If you're not familiar, Argos is a 40-year-old British retailer where you used to find out what products it sold by looking at a catalog, and then ordered in-store using a paper slip and tiny ballpoint pen of the type you'd get in a betting shop. You then paid at one counter, and went to another counter where someone would bring out your product from the warehouse at the back.
When I was growing up the Argos catalog was a fixture of our living room. The retailer has since moved into the digital age by listing products online and, for the last decade, it has run a "click & reserve" service that was pioneering when it launched. And yet, despite the moves into digital, Argos still has a large portfolio of 737 physical shops.
Now it is taking steps to further drag its shops into the digital era. Last week, it revealed plans for six pilot "digital" stores. The first of these is due to open on Old Street in east London, and will then be followed by shops in Marble Arch, Chancery Lane, and Old Kent Road in London; Colchester in Essex; and Dunfermline in Scotland. Argos hopes to open these pilot shops by Christmas, but testing on the technology means this isn't guaranteed.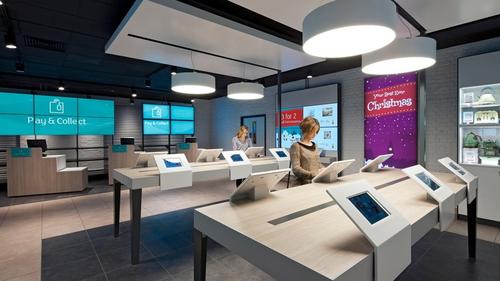 The reason for this focus on digital shops is that 40% of Argos sales are done via digital channels, but that 90% of transactions still involve the shop at some stage. This includes people who buy their goods online but pick them up in the shop.
This trial is part of a plan by its owner Home Retail Group to close or relocate 75 Argos shops over the next five years. Here are the new in-store initiatives:
Mobile devices, not catalogs: The Argos catalog will be replaced by tablet computers in-store that enable people to browse for goods and order them, though a limited number of catalogs will be retained in-store for those who prefer them.

60-second fast-track collection service: People who have bought goods online or on a mobile device will be able to pick them up within 60 seconds of arriving in a store. Argos will also introduce a voice-activated storage system to enable people working in the warehouse to find products and bring them to the tills quickly.

Digital signage: Traditional window posters will be replaced with digital signage that can be used for branding, price promotions, and seasonal offers.

Free WiFi: Argos has done a deal with mobile network O2 to offer free WiFi so that people can browse and buy products online while in-store.
John Walden, managing director of Argos, said in a press release that this would make the company a "digital retail leader." The plans don't sound revolutionary to me.
Yes, they look cooler than traditional Argos stores, but the use of screens instead of catalogs and improvements in warehouse efficiency suggest that this is more of an evolutionary change. Nothing wrong with that, as long as the touchscreens work.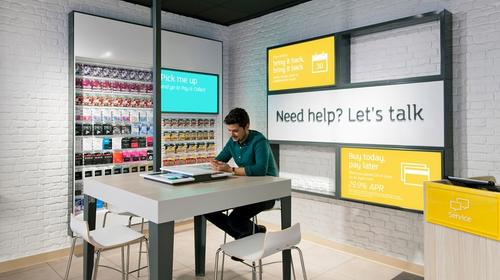 This is not the retailer's only ongoing plan to increase its digital offer. In September, it announced a partnership with eBay where it would offer people the chance to pick up goods bought from a select group of eBay sellers in 150 of its stores. This is a smart move for a retailer with lots of shops with big storage spaces in city centers.
The problem I've had with Argos in the last five years is I'm not quite sure what it wants to be. It isn't a traditional shop because you can't look at the products up close before you buy them; but it isn't wholly digital because so many people collect purchases in-store. It doesn't offer much of a shopping "experience" or 100% convenience. It's stuck in the middle.
Given the fast changes in the retail sector, that could turn out to be its strength.
Related posts:
— Rich Heap, Community Editor, UBM's Future Cities