I knew that cross-London rail scheme Crossrail survived the financial crisis, but I never quite believed it until I saw it for myself.
On Tuesday, I joined a tour organised by Canary Wharf Group and Transport for London subsidiary Crossrail to see how work is progressing on Canary Wharf's Crossrail station. It was great to see, and a big difference from the stories I was writing five years ago when there were concerns that the Treasury might delay or scrap the scheme to save money. Thank goodness it continued.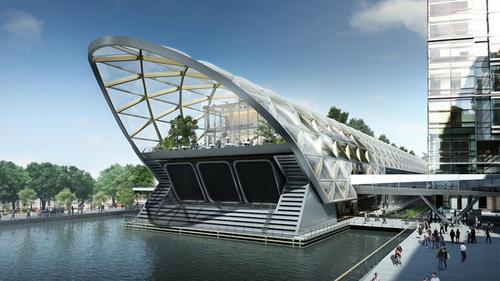 Crossrail is a £14.8 billion scheme that will cross London from west to east and is due to open in 2018. The tracks run to over 100km, and it is Europe's biggest building project.
At Canary Wharf, the £500 million station development will have four storeys of retail and leisure space, two storeys for the station -- one for the ticket hall, one for trains – and is topped with a roof garden. Canary Wharf wants to open three storeys of the 115,000-sq.-ft. retail space in 2015, and it sees the station as key to doubling the size of the Canary Wharf estate by 2025.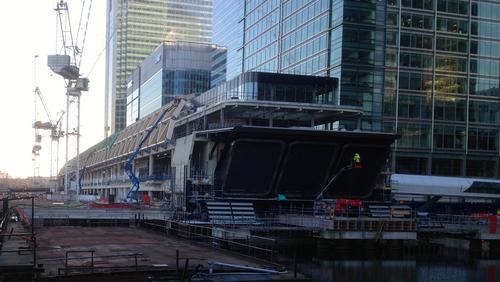 Our guides on this tour were Michael Bryant, operations executive for Canary Wharf Contractors, which is a wholly owned subsidiary of Canary Wharf Group, and Alasdair Kinnaird, project manager for Crossrail on this station. We started on the top floor, where work is progressing well on the curved timber-framed roof.
The roof is the most attractive part of the scheme, which was designed by Foster + Partners. It is made from glued laminated timber – or "glulam" for short – supplied by Austrian firm WIEHAG Timber Construction, which is also supervising the roof construction. The work started in September, and you can see more details here.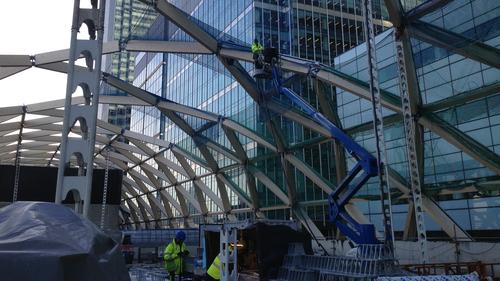 Bryant explained how the top floor would be used for restaurants and a public park, which would include trees. Some of these would poke through the roof, which will not be fully glazed. We were there on a sunny day and so this floor was still bright, despite the looming presence of buildings including the HSBC and Barclays towers on one side.
After this we went down to the second highest of the four retail floors. Bryant said that Canary Wharf plans to open the retail space in two phases. The first phase includes the top three floors of retail -- which represents three-quarters of the scheme's total retail space -- and 55 percent of this has already been leased. Canary Wharf is aiming to bring in leisure operators, such as a cinema and indoor urban golf, alongside other retailers.
Canary Wharf will wait until the Crossrail scheme is nearer to completion before it finds tenants for the bottom of the four retail floors.
We then took a lift down to the ticket hall level, where the granite flooring has already been laid, the cream wall tiles have been fitted, and lights are being installed. Kinnaird explained that all Crossrail stations would look similar, but not exactly the same.
"There is a palette of materials that contractors, designers, and architects can choose from so it'll all be consistent, but not every station will look like this," he said.
The final stop on our tour was to the bottom floor, where the trains will come in. Tunnel boring on this part of the line happened in summer, but the areas where trains will come in are still covered because there is more excavation happening further up the line. Tunnelling on all the lines is due to complete by the end of next year.
One of our other hosts, James Goonan, also from Canary Wharf Contractors, explained how the boring machine doesn't just make a hole. It also covers the hole with concrete, creating a sealed concrete tunnel, and it lays down tracks behind it so that the materials it needs to create the tunnels – including the concrete – can be easily transported to it.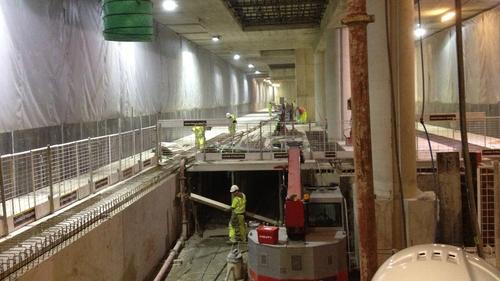 This part of the project is even more impressive because the station is being created in a concrete shell that sits 28 metres below the water level in Docklands. I wonder how many travelers will be thinking about that when Crossrail starts in 2018.
Related posts:
— Rich Heap, Community Editor, UBM's Future Cities