Today, Apple is due to go before the Cupertino City Council in California to get final approval for its planned headquarters, Apple Campus 2.
The council approved the campus last month; this is the second reading of the development agreement. The plan, which includes a circular main building that measures 2.8 million square feet and is reminiscent of a spaceship, is the brainchild of the late Steve Jobs.
If the council votes in favour of the plan today (and there's no suggestion that it won't), work will be due to start by the end of the year. The campus, expected to open in 2016, was designed by the architecture firm Foster + Partners. You can see principal architect Sir Norman Foster talking about the design in this official video from Apple.
Wired and other news outlets have published a selection of images from Apple's planning application. Here is a slideshow of 10 computer-generated images of the main building. Just click the image below to begin.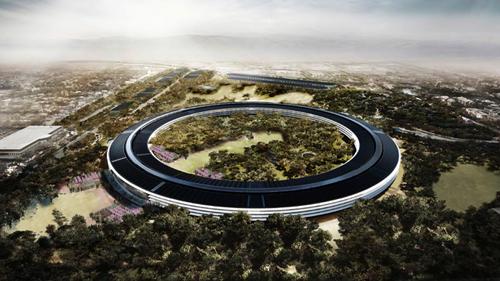 It's an impressive plan, and I'm sure it will be an attractive place to work. That is the least I'd expect, given that it's expected to cost $5 billion (£3.1 billion). But I want to look at two of the characteristically ballsy comments from Apple about the plan.
The first came from Jobs in a presentation to the Cupertino planning committee on 7 June 2011, which turned out to be his last public appearance. "We have a shot at building the best office building in the world," he said. "I really do think that architecture students will come here to see it." How can you possibly define whether an office is the best? Perhaps it could be best if you're talking about materials used and the attention to detail, but I'm not convinced that this is the best way to judge an office building.
I could argue that an office is best because it makes employees happier than other buildings. I could also argue it is best if the company that occupies it makes more money than other companies, or if it makes the best contribution to the environment. It's a confusing statement because all of these things could be true. It's easy to judge if an iPhone is better than other smartphones if more people buy an iPhone than rival phones. It isn't so easy to do this with an office building.
The second comment is from the proposal itself. The company said its Campus 2 will be "a model for the 21st-century workplace -- a fantastic place to work, to create, to collaborate, and to shape future technology."
I have no doubt that it will be an impressive place to work, but is it really the model for a 21st-century workplace? That's stretching it. We're only 13 years into the 21st century, and I don't see how Apple can predict how people will work for the next 87. It will be a stunning building, and it may be a great example for how people will work over the next decade, but it will also age and be surpassed.
What this development shows me, more than anything else, is that large out-of-town offices are still appealing to some large companies. We can talk as much as we like about companies wanting to be close to the amenities of city centres, but some firms will always want to be based on a large campus where they control the environment. Benefits include more land, fewer planning restrictions, and less interference from pesky neighbours.
They aren't for every company, but out-of-town office campuses still have their place.
Related posts:
— Rich Heap, Community Editor, UBM's Future Cities