Cities are full of signs. People everywhere are being told what to do, what not to do, and what to buy. Are there too many? Nonsense. Let's have more.
The UK's Department of Health and London mayor Boris Johnson are supporting a plan by tech company StepJockey to install signs on staircases in offices that tell people how many calories they would burn by using the stairs. The idea is based on "nudge theory," and the company says this could nudge people to use stairs more, and get healthier.
The signs link to a website and app. Users enter the number of stairs in a staircase, and the technology then works out the calorie-burning potential of that staircase. They could then print out a paper sign to put by the staircase telling people how many calories they could burn by using those stairs; and the sign includes a QR code to users can track their stair use on the StepJockey app. People can also pay for acrylic signs with RFID tags.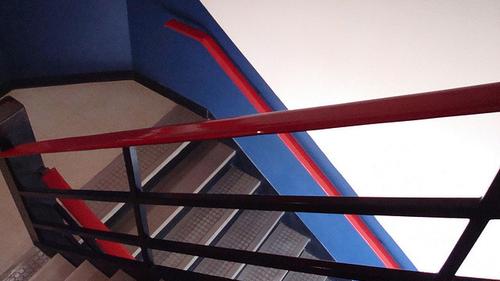 StepJockey founder Helen Nuki, a behavioural economist, says the idea is to help people get fitter a little bit at a time. In a press release accompanying the launch on Friday she said: "The world is a gym and through StepJockey we want to positively label it as such."
In late 2012, the company carried out trials at three office buildings in London and the county of Hertfordshire. These trials lasted six weeks and involved more than 250,000 stair and lift journeys, and the company reports that stair climbing rose 29 percent in the buildings fitted with StepJockey signs. I wonder if some of this is due to novelty value.
Hertfordshire County Council has been keen to build on this trial. The council has put the signs in all its main buildings, including County Hall and its Fire Station Headquarters; and StepJockey says that other blue chip companies are signing up as well. It says more than 200 office buildings have already been rated using the system.
Personally, I'm not convinced that I'd log my stair use on a mobile app by scanning a QR code or RFID tag. I don't want to be fumbling to get my phone out every time I walk up the stairs, and knowing how many calories I've burned in total by using stairs to track my weight loss isn't much use on its own. I could eat three Mars Bars when I reach my desk.
But I still like the idea. Installing signs in an office stairwell seems pretty unobtrusive, and if it can encourage more people to use the stairs a little more often then that's good too. Exercise can help people control their weight and cut the risk of getting cardiovascular diseases, diabetes, osteoporosis, and some types of cancer. I can see how the idea can appeal to firms that want to prove how much they care for their employees.
What intrigues me most about this is that the slogan on the StepJockey website is "Labelling the World for Calorie Burn." So I wonder, where else could cities benefit from calorie-counting signs? Here's a slideshow with some ideas (click the photo below to begin):
Related posts:
— Rich Heap, Community Editor, UBM's Future Cities