Becoming carbon neutral won't fix our planet. It will just mean we're killing it more slowly. That was the message from the opening talk at the Future of Cities Forum.
Last night Michael Braungart, professor at Erasmus University of Rotterdam and founder of the Environmental Protection Encouragement Agency, gave the opening talk at the annual Future of Cities Forum conference in Hamburg, Germany. The event is bringing together 150 mayors, city planners, scientists, and businesspeople to discuss the problems facing cities.
Braungart said city leaders and property developers are aiming too low by trying to make cities that are carbon neutral. He argued this is not enough because it still means cities are doing damage, but are content to do less damage than they do at present. Instead, he said that city leaders should be aiming to develop cities that have a positive impact.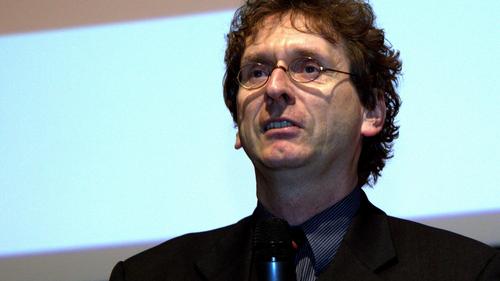 "People think it's protecting the environment by destroying a little less. It's funny," he said. "It's like saying, 'Protect your child by beating them less.' "
Braungart made the case for "regenerative urban development," which is the key theme of the conference and which I wrote about yesterday. He said that cities are damaging the planet because they take the raw materials from nature, use them, and then discard them as waste that is often useless and sometimes dangerous.
He argued that people in charge of cities should not merely focus on using resources more efficiently, because this is an approach that still destroys the planet but over a longer period of time. Braungart said that the people in charge of cities should find ways to use waste products as a resource, which more closely mimics the processes of nature.
If businesses aim to make a positive contribution to the economy and to society, said Braungart, it makes no sense that they should aim to only be neutral when it comes to the environment: "Building developers only want to not have an impact," he said, and added that trying to optimize existing types of buildings is a flawed approach.
His view is that developers should design buildings that can help the environment by, for example, generating energy and using technology that can "clean" the air in a similar way as trees do.
Cities are the world's main consumers of natural resources, and so they have a crucial role in repairing the damage that people have done to the climate, he said. "Cities are key. We can make buildings that are energy positive and carbon positive. We can make buildings that put nutrients back."
It is a strong argument, and the concept makes a lot of sense. We should not be content to simply limit the amount of damage we do, and should try to fix the planet if we can.
But I also think we should be careful about criticizing the city leaders, developers, and business owners that are trying to become carbon neutral. It is still relatively rare to find cities and businesses that have carbon neutrality targets. Using resources more efficiently will not be enough to save the world, but it is still important. If we tell them it is the wrong thing to be doing then there is a risk they won't do anything at all.
Yes, we want people to fix the environment. But, if they're not, let's at least be happy if they're doing less damage.
Related posts:
— Rich Heap,

Community Editor, UBM's Future Cities