"The mail never stops. It just keeps coming and coming...!" said the unhinged US postal worker Newman in
Seinfeld
. Twenty years on, he might not be so stressed.
On both sides of the Atlantic, postal volumes are falling due to changes in technology and consumer habits. The changing ways people are using the postal service, particularly in cities, is driving the need for reform.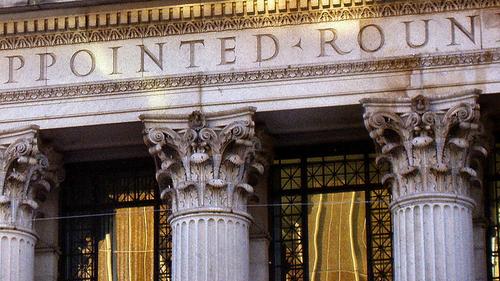 The impact of the Internet is obvious. Fewer people are writing letters because they can communicate day-to-day using email, social networks, mobile phones, and Skype. They can carry out more admin online. And although more people are buying stuff online, much of that work is done by private courier firms.
This means that postal services are looking at their business models. Last week, the US Postal Service said it plans to ditch letter deliveries on Saturdays from this August, in order to save $2 billion annually. In the UK, the post office revealed plans to close 70 of the 373 branches it manages directly, moving the services to counters in nearby shops. It added that a branch would stay open if an alternative couldn't be found.
Critics of both of these plans say they risk damaging important public services. To an extent, that's true: The postal service still provides vital services for city dwellers. It still gives the ability to deliver mail across the country for a very cheap price, which enables people to send documents from vital legal letters to their mother's birthday card. It also helps people who aren't comfortable with online transactions.
The critics are right that these services are important. However, it is precisely because these services are important that we need to think about sensible ways to reform the service to fit in 21st century cities.
To me, both the reform plans set out above seem sensible. I don't see much point in Saturday letter deliveries and would happily see them phased out in the UK as well as the US, if it saved money.
Likewise, closing some of those 373 directly managed post office branches is smart. Those branches lose around £40 million a year, in total, in the UK, and so moving the services to counters in shops would help the post office cut property costs. The franchise model is well established. In the UK, there are already 11,500 post office counters operating from big shops, small stops, and petrol stations. There's no problem as long as the post office can take action against underperforming franchisees.
Critics will argue that postal services are vitally important and that steps like these in the US and the UK would damage them, but I disagree. People are using the services differently and so, to keep them alive, the US Postal Service and UK Post Office have to change their business models in response to that.
The parallel here is with retailers. We've seen time and again in the recession that retailers -- like HMV -- have died because they haven't adapted. Sure, they've got goodwill, but they need money to stay alive. The best way to protect these much-loved services and make them relevant to modern city-dwellers is to reform them and put them on a firm financial footing, as this will keep the service viable in the long-term.
These services do a valuable job and they're more likely to die if they stick with the historic form. I'd much rather they be restructured and kept alive, performing their vital functions for many more years. I suspect that, deep down, many of the critics of the reforms on both sides of the Atlantic would feel the same.
— Rich Heap, Correspondent, Property Week
Related posts: