For tourists coming to Oxford, it's not the historic buildings that attract them anymore. Rather, it's
Bicester Village
, the luxury retail park sitting 10 miles outside the city centre.
Bicester Village attracts around 5.5 million visitors annually, of which two-thirds are tourists. It is the most popular tourist attraction in Britain outside London. It's also a hit with Chinese visitors: Of the 150,000 Chinese visitors that came to Britain last year, two-thirds came to Bicester Village. They are drawn to the scheme because it sells high-end fashion brands for less than they would pay at home.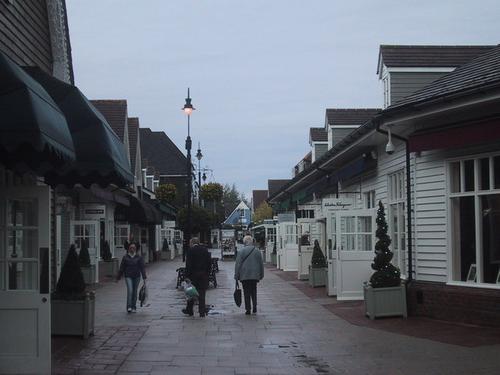 This provides insight into how cities can use development, even outside city centers, to attract tourists from the new economic superpowers. Economically, it will become increasingly important to do so.
Earlier this month, research firm Euromonitor International published an annual survey of those in the British tourism industry, in its World Travel Market 2012 Industry Report. Travel professionals said that increasing numbers of visitors from China, Russia, and Brazil represented the biggest change in world tourism in the coming decade, and two-thirds (63 percent) of them were already adapting their business models for this.
It is up to those in central government, planners both inside and outside of big cities, and the built environment sector to help enable this shift to happen. It is where the money is.
This means enabling more developments like Bicester Village, even though they will have to happen in areas outside big cities. Eight out of ten Chinese visitors to London are happy to sit on a coach for a couple of hours each way to take advantage of the bargains on offer, so location is not so much of an issue. Indeed, the Chinese ambassador reportedly told the prime minister, David Cameron, in 2010 that to attract more Chinese visitors we must "build more Bicester Villages." That is something to listen to.
There's also pressure in London and other big cities to design hotels that cater for Chinese sensibilities. This may include bigger restaurants in hotels so they can fit in more private dining rooms, and gaining a deeper understanding of how to design hotels using feng shui principles. In Britain, feng shui got a bad name in the early 2000s as interior decorators on TV went mad for it, but we need to get over that stigma: this can affect where people spend cash.
We should also be looking to roll out more public WiFi in our cities. Guidebooks will become obsolete as visitors increasingly use smartphones to work out what they want to do next. For this reason, it is important to provide more WiFi spots in hotels, cafés, tourist attractions, and other public spaces.
All this is feasible and within the grasp of those in the built environment. Unfortunately, there are two other major obstacles that can only be solved by central government.
The first is infrastructure development, and airport capacity in particular. Debate rages in Britain about whether we should build a third runway at London Heathrow, expand our other airports, or build a new airport elsewhere. Unfortunately, while this talk is ongoing, it means that nothing's actually being done on the ground. Government must start upgrading the infrastructure needed to cater for new visitors.
The second is Britain's visa rules, which impose tough criteria on Chinese visitors looking to visit. This is an area where retailers and property owners are lobbying the government to make changes.
Richard Dickinson, chief executive of the New West End Company, which represents retailers and property owners around London's Oxford Street, estimates that relaxing visa restrictions could be worth up to £1.2 billion a year for the British economy now, and up to £3.1 billion a year by 2020. It's all very well for the government to go on trade missions to China trying to tempt visitors -- indeed, another one started this month -- but Britain won't be able to capitalize unless it's then easy for these people to come here. Government must immediately look at what it can do to change the onerous rules for these visitors.
This isn't just an issue for Britain. Any world city that wants to get a share of the changing world tourism market must look at how it can adapt to cater for tourists from BRICS countries. In Britain, that is likely to mean complementing our historic city centers with out-of-town "tourist trap" retail schemes.
If that means a few more Bicester Villages, that's fine by me.
Related posts:
— Rich Heap, Correspondent, Property Week