As global cities evolve, will we continue to work in soulless, windowless offices devoid of plants and colour? An exhibition in London suggests the answer is "no."
The Office of the Future exhibition, by design magazine Wallpaper*, opened to the public on March 21, and it runs for 10 days. Held at One Howick Place, a 143,000 square foot office and residential scheme by developers Doughty Hanson and Terrace Hill in London's Victoria, the exhibition presents a "radical new vision of how and where we should spend our working lives," according to the press release.
The offices that feature in the exhibition are certainly not soulless and drab. These are stylish, calm, and colourful workspaces -- with private desks and lively, sociable meeting rooms, ultra-modern art installations and striking, Conran-style furniture.
Click the image below for more photos from the exhibition: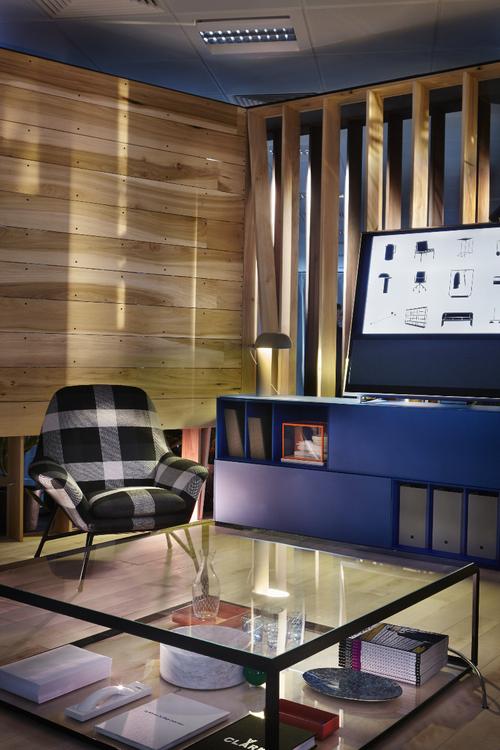 The press release adds: "Designer Adam Khan combined natural and heat-treated American tulipwood with light American maple flooring in his design to create a warm and rich working environment."
The installations were sponsored by American Hardwood Export Council -- I expect they would be eye-wateringly expensive to replicate.
With the rise of flexible working -- and the death of the 9-to-5 working day after which we all go home and forget about our office life (those were the blissful days...!) -- the boundaries between home and work are becoming confused.
People need to be able to work productively at home sometimes, but they also want their office to be a more pleasant and homely environment because they generally spend so much more time there than in previous decades.
As Wallpaper's editor in chief Tony Chambers said in a statement about the exhibit: "The demarcations between work and home are increasingly blurred; we seem to want to domesticate the workplace and make our office environments more friendly and reflecting personal tastes."
According to Chambers, a uniquely designed workspace can also be a powerful corporate tool: "Through this exhibition, we will show how personalised, cleverly domesticated workspaces could encourage creativity, motivation, loyalty and honest graft as well as making a subtle but powerful statement about one's business identity."
This all makes perfect sense -- particularly if your company has frequent visitors and hosts meetings rather than having its employees out of the office most of the time visiting clients.
But it would be much harder to convince your finance director to fork out for an stylish and expensive retrofit if your company's chosen "futuristic" approach to work was one of hot-desking, remote working, and virtual conferences -- à la IBM, for example, as I discovered recently when I attended a meeting at the company's London headquarters on the South Bank of the River Thames.
Like most technology companies, IBM has been active in shaping visions of "the workplace of the future," helping itself and other businesses extract greater levels of productivity from staff, and cut property costs by being more efficient with space.
The approach has become known as "activity-based working," which means offices are designed around the specific tasks performed by employees. Workspaces are unassigned and employees instead use different parts of the office depending on the activities performed -- for example, meeting rooms, cafes, quiet zones, and presentation areas. Essentially, people are much less tied to an assigned desk and "float around" depending on what they are doing.
It has its drawbacks though. When the meeting at IBM had finished, and we turned to leave the room, my contact grabbed my hand and said: "If you don't mind, I'm going to leave you here rather than take you to reception -- I've just spotted a spare desk and I've simply got to grab it while it's still free!" Surely rushing around like a mad thing and battling with colleagues for space cannot be a relaxing and productive way to work?
It wouldn't be possible for all companies to adopt the approach exhibited at One Howick Place, but I would probably choose that over a "virtual" office culture any day.
Related posts:
— Sarah Townsend, Professional & Legal Editor, Property Week