Five percent of the world's building stock is now certified under a recognized green building rating system.
But hold your applause. Five percent is not enough. In the next 30 years, we'll double the size of our current built environment -- and most of those buildings will be in developing nations. There has never been a better time to get this right.
While it's clear that we must scale up our building-by-building approach to sustainability, it's equally clear that governments around the world aren't quite sure how to tackle this.
Around the world, city councils are putting the finishing touches on plans that outline their visions for sustainable cities in 2030, 2050, or beyond. While these plans set the scene for a sustainable future, the councils struggle to get people interested in implementation. It's not through lack of vision, and it's not through lack of willingness. It's because of a disconnect between the strategy and the roadmap required to achieve real-world results.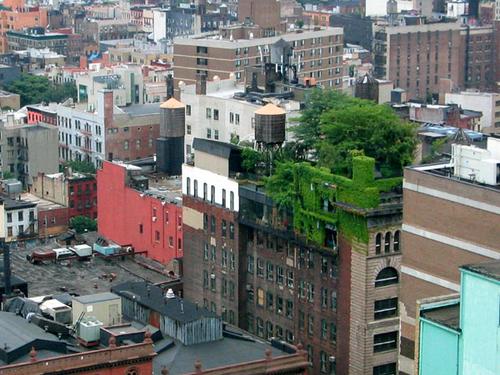 Joi Ito, director of the MIT design Lab, says, "We are at the point of no return of trying to deal with our problems in a linear way. We need an 'un-linear' change -- and un-linear change only happens when you have a 'wildfire' of support from the people."
If real, lasting change only happens through people, how does a local council get people engaged and committed to creating a sustainable future for their city or community? One solution is collaborative frameworks that guide collaborative processes, rather than just providing achievement labels.
The EcoDistricts model, for instance, provides practical guidance to help district-scale sustainable development projects get off the ground. To become an EcoDistrict, a neighbourhood -- in partnership with the city and other public agencies -- must develop a shared vision and governance structure.
EcoDistricts provides the framework to help residents identify community needs and priorities -- such as economic vitality, safety, access to parks and open space, and improved transportation -- and connect these priorities with environmentally-based assets and investments to address these needs. The challenge is to link community drivers with sustainability -- something that community engagement models such as EcoDistrict do very effectively.
When everyone in a community is empowered to learn, design, share, create, and participate, it enables each and every person to take ownership and responsibility not only for their own community, but for the broader global community.
While sustainability is in everyone's interests, when many people hear "green," they think they are going to lose something -- that they will have to sell their car, cancel their vacation, and live in the dark. Few people really understand what phrases like "low carbon" or "zero emissions" actually mean.
However, getting people to engage with sustainability is simple if we concentrate on what people gain, such as cleaner, fresher air; more productive, pleasant workplaces; healthier, more connected communities; and more money to spend on things other than energy bills. We all want these things. What we need are the tools and the guidance to help turn the dream into reality.
— Jane Henley, CEO, World Green Building Council
Related posts: