Transportation is central to successful cities, so it's great to see the issue getting attention in the US, despite lots of questions.
Yesterday, while visiting a light-rail depot in St. Paul, Minnesota (see video below), President Obama announced a transportation infrastructure plan that could boost urban transit plans nationwide.
The plan calls attention to the woeful state of US infrastructure. It includes a proposal for one-time corporate tax adjustments nationwide that, along with money already allocated by Congress for surface transportation, would produce $302 billion to fix US roads, rail, transit, and port infrastructure.
If approved, the money would rescue the federal Highway Trust Fund, which depends on an 18.4 cents per gallon tax on gasoline for federal funding of US highway maintenance. That tax hasn't gone up at the federal level since 1993, and it's at risk of running completely dry this year. "In August the Highway Trust Fund could start bouncing checks," said US Transportation Secretary Anthony Foxx during a luncheon speech in January.
The president didn't specify the nature of the one-time taxation of companies, but a White House Fact Sheet refers to it as "pro-growth business tax reform." This could mean cutting a variety of tax breaks to corporations.
The president also announced a fresh $600 million in funding for the federal Transportation Investment Generating Economic Recovery (TIGER) grant program, which, since its creation as part of the stimulus package in 2009, has awarded $474 million to 52 projects nationwide -- including many in cities.
Atlanta, for example, won $47.6 million for a streetcar project, as well as $18 million to develop its BeltLine, a former railroad line revamped as a multi-use trail.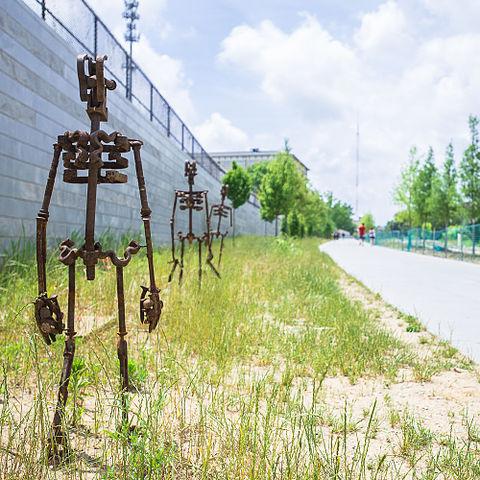 President Obama's announcement came the same week he revealed hopes to fund technology hubs in Chicago and Detroit. In presenting both proposals he reiterated his intention to press a divided Congress toward his plans: "This is one of Congress's major responsibilities -- helping states and cities fund new infrastructure projects," Obama said to a cheering crowd in St. Paul.
Obama's isn't the only infrastructure funding plan revealed in the US this week. Another proposal was issued by Rep. Dave Camp (R-MI), who also chairs the House Ways and Means Committee. As part of a broader corporate tax reform plan, Camp's group also proposes taxes on corporate earnings -- and also is sketchy on details.
All this news is terrific for cities. After all, better transportation not only stands to improve everyday life, it can also draw business, create new jobs, and build the urban economy. But questions abound. I can think of three off the top:
Will this be enough funding? While it's encouraging to see renewed federal interest in US transportation, it's hard to believe that the proposals will do more than dent the surface of the problem. Check out the cost of any major transportation project, and you'll see what I mean. Even $1 billion doesn't go far enough to build a bridge, transit line, or new road.
Can it work? Obama's proposal has drawn criticism from those who disagree with its methods. Example: AAA, which thinks one-time funding isn't sufficient to cover US infrastructure costs. "AAA agrees with a large group of diverse transportation stakeholders that a gas tax increase is the most viable, responsible and effective near-term solution to keep the Highway Trust Fund solvent," said Kathleen Bower, the AAA VP of public affairs.
Will it be used properly? Some critics say the TIGER funds are focused too much on walkways and bike path projects and not enough on roads and bridges.
These are only a few of the important questions this week's proposals raise. And while the plans could go a long way toward helping cities, the legitimate questions are likely to be overshadowed by the sharp polarization that continues to mar any effort toward really effective government action at the federal level.
Still, this week's proposals bring the problems of US infrastructure center stage. For cities, that can only be good.
— Mary Jander, Managing Editor, UBM's Future Cities

Related posts: