Is it spring yet? Mayors everywhere are longingly looking ahead as much as we are. You can't blame 'em, given some of this week's events.
Mayor de Blasio's embarrassing ride. We start our wrap in New York City, where Mayor Bill de Blasio can't seem to get a break. No sooner had he presented his new "Vision Zero" plan to improve traffic safety citywide than a vigilant media crew, following him from a news conference back to City Hall two days later, captured numerous violations by drivers of his two-car security SUV caravan.
We're talking enough violations to take the license away from the average Joe Citizen in NYC, including speeding, running stop signs, and failure to signal lane changes. Here's the footage:
While the Mayor hasn't responded directly to the situation, he's no doubt plenty embarrassed over what looks to be, as one social media respondent pointed out, a matter of "Do as I say, not as I do."
Boston's new mayor pleads with Pope Francis. It's apparently a long shot, but Boston's new mayor, Martin Walsh, invited Pope Francis to visit the city this week. Walsh requested that his long letter, in which he reportedly gushed on for several paragraphs, be hand-delivered by the archbishop of Boston, Cardinal Sean P. O'Malley, who's on business in Rome. While the pope has plans to visit the US in 2015, the country not on his itinerary until then, making any visit to Boston probably out of the question. Still, it never hurts to ask.
Boris fights back. The EU Commission is getting tough on air pollution, but London's Mayor Boris Johnson is having none of it. In a statement by Matthew Pencharz, Johnson's senior advisor on environment and energy, the administration lashed out against EU plans to fine London for not meeting pollution standards for nitrogen dioxide. Pencharz not only disputed the fairness of targeting London, which he says is trying hard to lower emissions, he blames the EU itself for failing to regulate automobile specs to lower overall European pollution. "Given that we have done more to address this problem than any other city, the decision is hugely disappointing," he stated.
Let's pause here to post yet another photo of London's irrepressible mayor. Sorry, we can't help ourselves. Add this to your growing collection: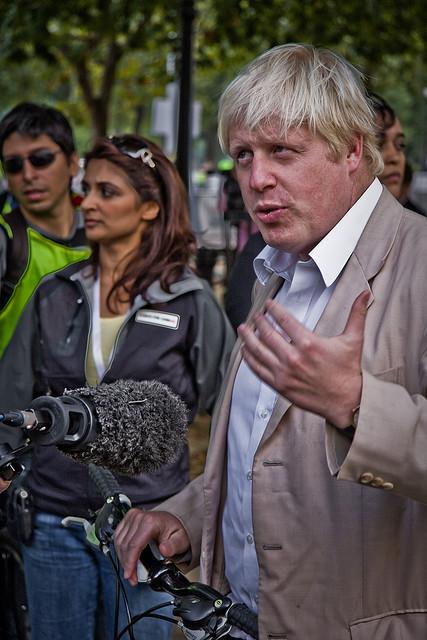 Bloodshed drives Kiev's mayor to quit. On a far darker note, the horrendous and bloody civil strife tearing apart the city of Kiev, Ukraine, prompted brand new mayor Volodymyr Makeyenko to quit his political party on Thursday. "I've made the decision to leave the Party of Regions and take personal responsibility for ensuring that daily city life keeps going in Kiev," he told the Russian media. "I carry the enormous responsibility for every resident of Kiev… My main aim is to save the lives of Ukrainians. I will be the chair of the Kiev city administration as long as the people of Ukraine trust me."
A short, chilling video posted on YouTube this week reveals a bit of the horrible events happening in the city:
May this tragic violence have a speedy and effective ending soon.
And may you have a peaceful week until we return with a fresh mayoral mashup. In the meantime, if you have news and views on these and other mayors around the world, post away on the boards below.
— Mary Jander, Managing Editor, UBM's Future Cities

Related posts: