Commuters in Brazil are mad as hell over the issue of transit infrastructure and unwilling to take much more.
Last Thursday, two days before the city of Rio planned to increase transit fares by 9%, violence erupted at Rio's Central Station, with protestors throwing stones and gasoline bombs and police retaliating with stun guns and tear gas. A local TV cameraman was the single reported serious casualty, after being hit in the head by a projectile that couldn't be attributed to either side.
The fare increase, from about 2.75 Brazilian Real to 3.00 (or roughly US$1.15 to US$1.26), is relatively small in terms of city fares elsewhere. But it's a lot for many of the economically challenged commuters who brave the buses and subways of Rio to get to jobs paying subsistence wages.
Dissatisfaction over public transit -- including its conditions as well as costs -- are blamed for riots in Rio and São Paulo, intermittent since last spring. As reported by Jonathan Watts in the UK Guardian, São Paulo disturbances have been particularly violent and frequent; and since the start of January this year, protestors have set fire to buses and disrupted subways by pulling emergency brakes.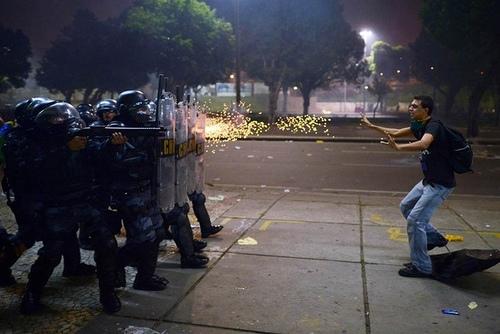 There are several aspects to Brazilians' discontent with their transit setup. First, there's been little accomplished to improve transit in Rio and São Paulo, despite enormous sums spent to prepare Rio to host the World Cup soccer championship this coming June as well as the Summer Olympics in 2016.
Many commuters in Brazil's cities, especially those who suffer at the bottom of the economic heap, believe that all the money funneled into the games could be better spent improving infrastructure -- as well as healthcare and other conditions.
"The point isn't the public transportation fare hike, if there was a public transportation fare hike and we had good health services and education you wouldn't have this many people on the streets," a protestor in Rio told the media last week. "On top of this you see spending with the World Cup, things that we really don't need. We want health, education, and decent public transportation."
Certainly, the sports projects were meant to boost better transit. But many of the plans promised by Brazil's President Dilma Rousseff in 2011 haven't materialized. Delays have haunted a multimillion-dollar high-speed rail connection between Rio and São Paulo, for instance, and other delays and shifts in policy have spooked investors and sapped citizens' confidence.
Meanwhile, Rio and other cities just don't have enough public transit. A tweet making the rounds recently depicted the progress of Rio's subway system, for example, against Shanghai's, with the following stunning visual: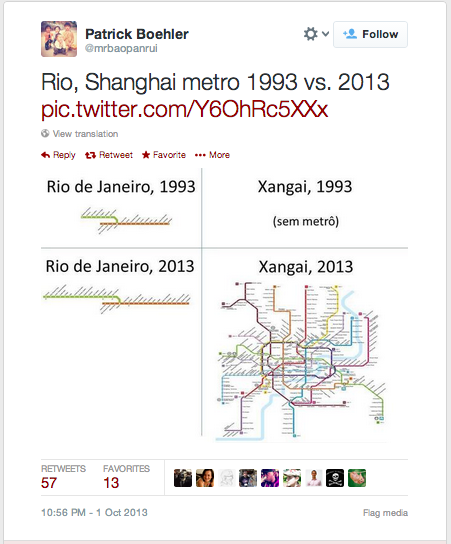 Making matters worse, the transit systems Brazil's cities do have don't work very well. Accidents are frequent, such as the crash and derailment of a commuter train in Rio last month.
President Rousseff's financial strategies don't impress international investors, either. As Wall Street Journal editorial writer Mary O'Grady wrote this past weekend: "High taxes, more protectionism, the misallocation of capital, higher interest rates (for those who are not chosen nation champions) and persistent inflation are not the stuff of a competitive economy, notwithstanding Mrs. Rousseff's promises in Davos [at the January meeting of the World Economic Forum]."
There are some upsides. During an event late last year, Rio was recognized for innovations in bus rapid transit. When I emailed the nonprofit Institute for Transportation & Development Policy (ITDP) based in New York City for a comment on Brazil's situation, I got the following comment back from spokeswoman Jemilah Magnusson: "Rio's transit system is varied -- some of it, such as the Transoeste BRT corridor, is actually very high quality, what we consider a gold standard BRT, although there have been issues with overcrowding. They have also been very ambitious with plans in advance of the World Cup and the Olympics, so we do see them going in a more positive direction."
Magnusson referred my inquiry for comment to ITDP's Brazil office, but at press time, I'd had no response.
As transit rates increase in Rio and other Brazilian cities, so too does the dissatisfaction of commuters and citizens with how their country and cities are spending on infrastructure. The message is clear: Something is awry with Brazil's urban priorities, and unless the issues are addressed, we could see much more unrest, even as the world descends for its favorite sporting events.
Related posts:
— Mary Jander, Managing Editor, UBM's Future Cities