What if you discovered a priceless archeological site where you'd planned to build your dream structure?
That's precisely the scenario playing out in downtown Miami, where a lengthy -- and costly -- real estate project aimed at rejuvenating the local economy has stalled, thanks to the results of a mandated archeological inspection.
As the MDM Development Group was constructing the last part of the phased, $1 billion Metropolitan Miami multipurpose project, archeologists hired by the group discovered a 2,000-year-old native American village once inhabited by the extinct Tequesta people. "It probably is the first settlement in Miami," Gerald Marston of Miami's Historic and Environmental Preservation Board (HERB) told The Wall Street Journal.
Since the site, which was long a parking lot, is part of a designated archeological area, MDM had to hire archeologists to inspect the cleared space before building. The Archaeological and Historical Conservancy Inc. inspection has been going on for months, at a cost to MDM of more than $3 million, according to WFOR-TV in Miami.
Many artifacts have been retrieved from the land, which also happens to have been the site of the iconic Royal Palm hotel. A key finding has been eight large postholes. Now that an entire village has been unearthed, the archeologists are clear on its value. "It would be ideal for Miami to have this part of its history preserved," field director Ryan Franklin of the Archaeological and Historical Conservancy told WFOR-TV.
Preserving the remains of this town will most likely be a fight, starting with a meeting between the HERB and MDM next week. It's likely the case will ultimately be ruled on by the city, which could force MDM to sell back the land to the municipality -- or not.
There is a precedent here. Back in 1999, Michael Baumann hit an archeological snag while building luxury condos on a 2.2-acre site in downtown Miami at the confluence of Biscayne Bay and the Miami River. After legal battles and a public outcry against building on the site, the city (with an initial loan from the Trust for Public Land) paid Baumann $26.7 million in compensation for a property for which he initially paid $8 million. Miami Circle is now a park, and the precious structures there are sealed to protect them.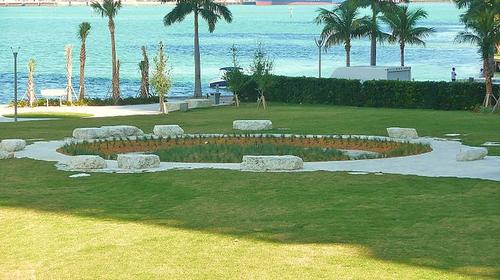 There are other precedents, too. Back in 1991, an enormous fight erupted over a New York burial ground holding remains of Africans enslaved in the 1600s. The US General Services Administration now puts a grand face on a vigorous controversy that was resolved only when Congress stepped in to halt development and help declare New York City's African Burial Ground a national monument.
My efforts to contact MDM and the archeologists involved in the excavation have gone unanswered. But Bob Carr of the Archaeological and Historical Conservancy says he'll get back to me when he can to answer some questions.
Meanwhile, it will be interesting to see how the conflict plays out. "This is why archaeology is conducted on projects," architect and planner Barbara Campagna told me in an email. "If resources like this are found, a mitigation plan will have to be developed. And this looks like it will be quite a battle."
One thing: MDM knew it was building on a site filled with remains. In my view, that put it at risk from the start. Clearly, the developer was willing to bank on the notion that nobody would care what was found on the site. It will now have to make good on the chance it took.
Related posts:
— Mary Jander, Managing Editor, UBM's Future Cities