A week of hard winter for many was also a watershed week for mayors worldwide, particularly in the US, where we'll start this week's rundown.
US Conference of Mayors (USCM) convenes in D.C: Tonight, as you commute home (or close up your home office), give a thought to the 250-odd mayors in transit following the 82nd Winter Meeting of the USCM in Washington. In addition to many meetings and a jam-packed day on Capitol Hill, including a visit from President Obama, the confab featured a number of highlights. Here are a few:
An economic report: Prepared for the mayors by IHS Global, a new survey shows that of 363 US metro areas tracked, 357 expect to add jobs this year, compared with 298 last year. According to The Wall Street Journal, Scott Smith, president of the USCM and the mayor of Mesa, Ariz., described the results this way: "It looks like we've bottomed out, with a slow but increasingly positive economy." Find more about the report here.
An energy report: A separate survey of 288 mayors done in partnership with energy giant Philips shows that 67 percent expect to increase their cities' use of new energy technologies over the next five years. Priority projects include LED lighting, solar energy systems, and building retrofits.
Proposals from big-shot mayors: Chicago's Mayor Rahm Emanuel came to the USCM meeting with a suggestion that rail shipments of dangerous cargo be charged for traveling through urban areas. New NYC Mayor Bill De Blasio encouraged mayors to work together to bypass a stalled partisan Congress -- a suggestion that drew applause. Dallas Mayor Mike Rawlings gave a speech encouraging the USCM to explore best-practices in public education -- and was promptly assigned to head the committee.
You can view more on the USCM meeting, including full videos of many sessions, here.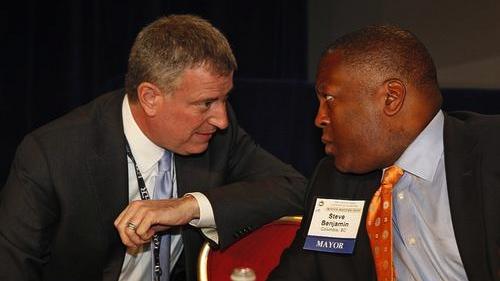 But not all mayors were glad-handing in DC this week. A quick scan of the globe reveals news of mayors elsewhere...
Japanese Mayor clashes with PM over base relocation: In Nago, Japan, last Sunday, citizens elected Susumu Inamine, a left-wing mayor, who promptly shut down a plan already approved by Japan's conservative Prime Minister Shinzo Abe to move a US military base from Futenma to Nago on the island of Okinawa. The issue of relocating the base is deeply felt and controversial, even on an international level. Filmmaker Oliver Stone and other celebs have opposed the move to Nago. The Abe government insists the relocation will go ahead despite Inamine's opposition.
Enter Rob Ford. Again. And again: Toronto's Mayor Rob Ford may be a lame duck in city government, but he's never far from the winking, blinking public eye. After starting the week with a drunken rant in a Jamaican accent at a fast-food joint (see video below), he showed up more than an hour late on Thursday to give a speech at an Economic Club of Canada luncheon. His handlers claimed he got stuck in a downtown Hilton hotel's service elevator for 45 minutes, a claim denied by the hotel's front desk. Once he took the podium, he encouraged his audience to embrace subways over light rail, which he called "fancy streetcars."
As one tweeter quipped: " 'We are on the right path' Ford tells Economic Club of Canada. Wrong elevator though."
We'll leave it at that. If you've got any comments or know about more mayoral milestones, let us know on the message board below!
Related posts:
— Mary Jander, Managing Editor, UBM's Future Cities