California cities beckon if you're seeking your first job in analytics. If you're a seasoned professional, head east.
These are two of the many information items emerging from "Follow the Money: The IQ Workforce 2014 Analytics Salary Guide," recently released by IQ Workforce, a recruiting firm for workers in digital analytics.
According to the survey, if you live in the US and you are just starting to work with digital information for, say, a marketing division, you'll do well to head to San Francisco, where a newbie can earn $81,000. Stay in Columbus, Ohio (which, incidentally, at least one analytics pro highly recommends), and you'll probably earn $51,000 tops as a starter in the field.
Fast forward 10 years or so. If you're a veteran working with predictive modeling and statistics and you have over 9 years of experience, you could command $111,000 annually in Columbus. Or you might choose to move to New York City, where top-level pros earn $200,000.

Indeed, for pros deciding on where to work solely based on the potential salary levels, IQ Workforce data shows that in New York and San Francisco, qualified candidates with 7+ years of experience can earn salaries between $50,000 and $60,000, equivalent to veteran predictive modelers and statisticians in Atlanta, Boston, Chicago, and Dallas.
Click here to see an interactive display of the IQ Workforce data by city and level of experience -- part of which is shown in the sample image below.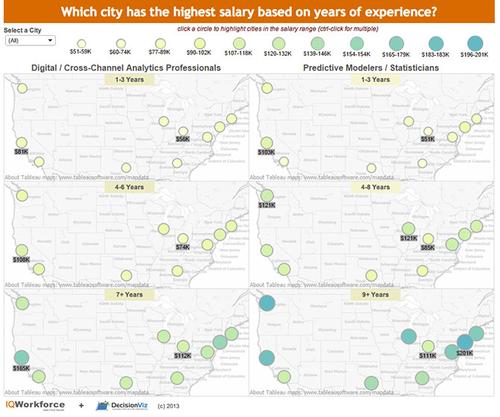 According to IQ Workforce president Corry Prohens, the latest salary information was gathered by his team according to years of experience, because titles tend to be "inflated": "Analysts with 2-years of experience in some companies are called Managers. Directors in many companies don't direct anyone," Prohens noted in his blog.
Another trend, he notes, is that many digital analytics professionals are also working with offline data that doesn't come originally from the Internet, such as customer service data from call centers, loyalty program data, direct marketing data, credit information, sales data, or financial data. (These are all just examples; some of this information may be digital from the outset. The point is that digital analytics is not restricted to one kind of data source.)
"Over the past few years, more and more companies are moving toward jobs that are not pure digital analytics roles," Prohens wrote. "They are hiring people that can combine digital data with offline data sources to create richer marketing and customer insights. This is a trend that seems likely to continue, so we broadened the category to 'Digital / Cross-Channel Analytics Professionals.' "
IQ Workforce is based in Roslyn, N.Y., handy to New York City. Its findings aren't surprising, given the traditional strength of technology in the cities of California, as well as New York's growing reputation as a tech hub.
In my view, the surprises here have more to do with the burgeoning demand for analytics workers of all stripes. While the kind of super-sophisticated analytics in which IBM, SAP, Oracle, and other large IT vendors specialize remains the realm of a highly paid few, it's clear the market for jobs in this area is growing in cities across the US.
One thing: It's not clear whether the growth of analytics jobs will be matched by more adoption of analytics by city governments. But considering that a rising tide is apt to lift all boats, it's likely we'll see more analytics everywhere, including at city hall.
Related posts:
— Mary Jander

, Managing Editor, UBM's Future Cities