A building once mocked as the "
Death Star
" of New York City's East Village is getting the last laugh as IBM moves in.
I'm talking about 51 Astor Place, which IBM announced last week will house its new IBM Watson Group business unit, "dedicated to the development and commercialization of cloud-delivered cognitive innovations," based on big data and analytics.
Here, from its news release and recent video, is how IBM describes what it plans for this group:
The IBM Watson Group will have a new headquarters at 51 Astor Place in New York City's "Silicon Alley" technology hub, leveraging the talents of approximately 2,000 professionals, whose goal is to design, develop and accelerate the adoption of Watson cognitive technologies that transform industries and professions… such as healthcare, financial services, retail, travel and telecommunications.
You could probably add smarter cities to that list at the end of the quote above. Although IBM hasn't highlighted the term in this announcement, the research cited above is an ideal fit for urban projects.
Which brings us back to the site Big Blue chose for its IBM Watson Group HQ. This controversial 400,000-square-foot 12-story building, faced with aluminum and glass, was just completed by developer Edward Minskoff. Designed by starchitect Fumihiko Maki, it cost roughly $300 million to build. It features green roofs, a granite lobby displaying a Jeff Koons sculpture, and an urban plaza presenting an Alexander Calder sculpture.
The building is LEED Gold-rated. (A question to broker Jones Lang LaSalle as to why it isn't Platinum has gone unanswered so far.)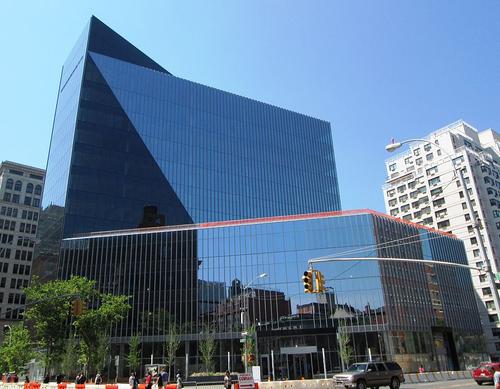 As the full block-long structure rose over the Village area, it drew jeers and fears. Some felt it was ruining the neighborhood's character, and many decried the fact that when complete, it remained vacant.
But Minskoff claims he waited on purpose to install tenants. "I decided early on that I didn't want to try to lease this property while it was under construction, because tenants need to see it to understand it," he told journalists.
Apparently, plenty of new tenants get Minskoff's vision of a New York urban haven ideally positioned to attract the young talent needed for emerging tech businesses. In addition to IBM, which the Wall Street Journal (WSJ) reported has rented 120,000 square feet, other renters include St. John's University, which recently committed to 71,000 square feet, and online auction house 1stdibs, which has rented 42,000 square feet.
The WSJ also reported that Twitter vied with IBM to get the space now taken by the new Watson group, but was outbid. "Twitter's a wonderful company and I would love to have been able to do both deals," Minskoff told the paper. Microsoft has also reportedly looked over the space.
Surely, Minskoff and his partners in this venture are having the last laugh. At $80 to $118 per square foot, rents in the Death Star are in line with the world's choicest office locales.
Questions remain about how the building and its tenants will reshape the surrounding Greenwich Village neighborhood for better or worse. Still, the fact that this once-scoffed-at edifice has risen to prominence in such a short time speaks to the foresight of the builder, the changing economic climate, and the reality that New York City indeed has grown its own tech hub.
Stay tuned. This story's just beginning.
Related posts:
— Mary Jander, Managing Editor, UBM's Future Cities