Cities will drive some of the
most significant technologies
of the next several years, says IBM.
According to the latest annual "IBM 5 in 5" list of five technologies that Big Blue says will "change our lives within five years," cities will soon be capable of all kinds of interaction with citizens via analytics, cognitive computing, and cloud computing. (See the full list, including IBM's other 4 of 5 top innovations here.)
"Picture a city that knows not only when trains run, but also knows its citizens," states an IBM predictive infographic (see below). "Cities will become less bureaucratic and more open to sharing of data and social feedback."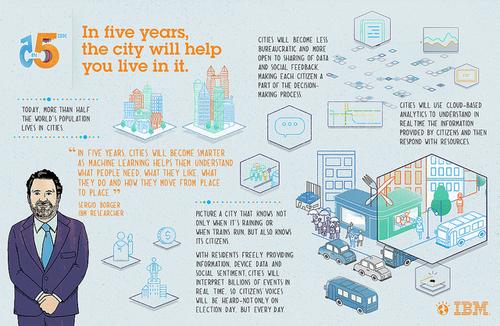 C'mon. Is this image of a "learning city" one we can attribute to overly enthusiastic geeks, ones looking to sell technology to municipal buyers?
Not exactly. While IBM's image of a city as an independently intelligent entity seems a bit over the top, the tenet that technology can solve urban problems is borne out by ongoing, well documented projects. "Our five predictions are grounded in things we've done enough work on to be sure the technology really works," said Katharine Frase, chief technology officer, IBM Public Sector, in a phone interview this week.
In Dublin, Ireland, for instance, IBM has created a system to gather and analyze information from bus schedules, traffic cameras, GPS updates from sensors it's installed in vehicles, and other sources to get buses running on time. Similar traffic management systems are at work in other large cities in Europe and North America.
Analytics aren't just used for traffic management. In Rio de Janeiro, IBM helped create a central city operations center and a system to speed up the city's emergency response times. In Miami, Fla. (see video below), IBM helped install an overarching analytics system to improve law enforcement, transportation, and water -- an effort that perhaps best illustrates the kind of integrated, cloud-based city system IBM is showcasing in its 5 in 5.
All of these projects illustrate that cognitive computer learning and analytics technology can be applied constructively to big data in big cities. It's an idea that isn't unique to IBM -- it's been taken up by Microsoft, Oracle, SAP, and other big enterprise software and service suppliers -- but Big Blue arguably has articulated and marketed it best.
According to Katharine Frase, IBM's approach is to find the city leader who at once knows the city's issues intimately and also is open to using technology to solve them. Once cities are shown how technology can improve efficiencies in areas such as traffic, water, energy, emergency response, and city services, they're ready to try it, she says. The availability of cloud services makes it all more affordable and attractive, not just to very large municipalities, but to a growing roster of midsized cities, too.
Urban analytics is not just a matter of speeding up or automating certain tasks. Frase notes that the true value of applying cognitive reasoning and analytics to big data is that it offers solutions in context. Every city is different; what causes water waste or traffic snarls in one locale will differ from causes elsewhere.
"If a city wants, for example, to have elderly people take a bus to the doctor, we can use anonymized data to find out when buses are running, survey the people who don't ride the bus," Frase says. IBM studies the data in context and extracts from it the time and space attributes that will help solve the problem.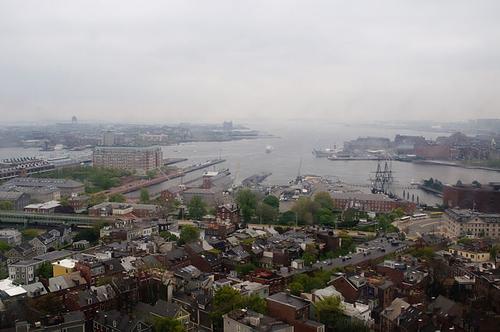 This kind of work is helping to create an enormous industry in urban big-data analytics. "Big data has myriad applications to boost the efficiency of government services while reducing their cost, achieving up to $95 billion in productivity gains. In addition, big data analytics can reduce expenses," states a report by McKinsey & Company released in July 2013. And Navigant Research estimates that urban analytics, or "smart cities technology," was a $6.1 billion industry in 2012 and will grow by a CAGR of 16.2 percent to over $20 billion by 2020.
Are there problems and obstacles? Of course. Security is one, though IBM maintains that cloud security is just as good as, if not better than, that of in-house systems. Privacy of data is another, though that, too, is as much a matter of communication and policy as it is about technology.
IBM's claims for city tech are somewhat idealized; but the results and trends can't be ignored. There are smart cities rising, and it pays to be among them, regardless of whose technology you choose.
Related posts:
— Mary Jander

, Managing Editor, UBM's Future Cities