Developments around the Bitcoin virtual currency system have cities mulling whether to jump in or pass on a risky but intriguing technology.
To review: Bitcoins are increments of virtual currency generated by a peer-to-peer, self-regulating network, wherein mathematically and digitally gifted programmers mine data sequences that conform to Bitcoin code. Each Bitcoin is uniquely encrypted and assigned an address. Bitcoins can be valued at more than $1,000 per digital coin. The network is set up to generate a finite set of no more than 21 million Bitcoins ever, and about 12 million are now circulating.
In Vancouver and other cities worldwide, retailers are increasingly accepting Bitcoins. Germany's Ministry of Finance recently approved them for tax payments and other official uses (see video below). In a congressional hearing last month, US officials tentatively endorsed the potential of Bitcoins for American transactions.
In Vancouver and Kelowna, British Columbia, Bitcoin ATMs were recently installed in storefronts and a coffeeshop. The machines, which let users trade Canadian cash for Bitcoins (and vice versa), are a collaboration between the Canadian Bitcoin broker Bitcoiniacs and RoboCoin a Las Vegas maker of ATM kiosks. They accept QR codes and work with biometric security.
Bitcoins also have been approved as payment for Tony Vaughn, the police chief of tiny Vicco, Ky. He will have taxes removed in US currency, but his takehome pay will be issued in Bitcoins.
If you find Bitcoins confusing, you're not alone. Personally, the concept sends me scampering for sources of basic information about the nature of currency. But the idea of a virtual means of payment that's not tethered to a specific economy, bank, or municipal bond structure is enticing. Might something like Bitcoins be used, for instance, to foster sustainable urban projects -- perhaps even to bail out Detroit?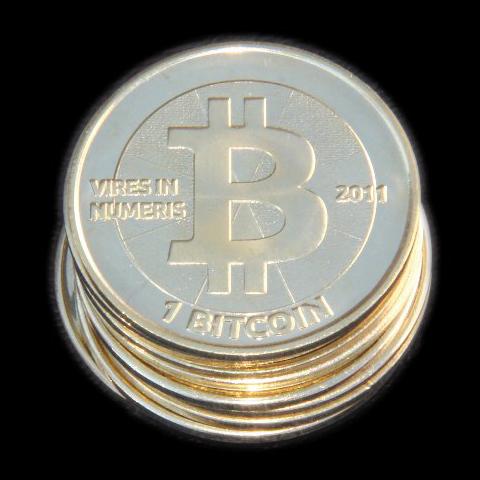 For now, these scenarios seem unlikely. At the government level, Bitcoins have generated as much controversy as enthusiasm. Thanks to the online anonymity of Bitcoin trading, the currency can boost transactions in countries with oppressive regimes. But it also supports plenty of shady and illegal activity, including the recently closed Silk Road site and others. In China, Bitcoins can't be used for banking or trading.
Bitcoin fraud is also a threat. In China and Germany this week, authorities arrested suspects for dealing in fake Bitcoins.
Still, the lure seems irresistible to many. Bank of America Merrill Lynch now tracks and reports on the Bitcoin market. "Bitcoin offers an attractive alternative to cash in terms of security, transparency of transactions, and counterfeiting," a new B of A Merill report says.
It's too soon to tell how Bitcoin might help boost the prospects of cities, but as understanding and use of the network progresses, it's possible we'll see more positive activity. At the very least, the concept has started experts thinking about other currency alternatives. A report from Deloitte, for instance, discusses government data as a new form of currency.
Given the challenges facing today's urban economies, it's important to investigate all angles. Doing so could prove unexpectedly profitable.
Related posts:
— Mary Jander

, Managing Editor, UBM's Future Cities