Confession: I hate taking buses. I prefer a train any day. But city councils who think as I do are, er, missing the bus.
In many cities, plans for light rail systems (or light rail transit, LRT) have been snarled by unexpected costs, polarizing resistance between municipal factions, zoning issues, and other woes. Projects in Denver, Vancouver, and the Chapel Hill section of North Carolina, for instance, have hit all of these obstacles in varying measure.
Proponents of bus rapid transit (BRT) say a lot of the problems with light rail projects can be circumvented, including the size of the capital outlay needed to get things up and running. BRT systems use existing roads without the hardware needed by LRT and streetcars, though they call for dedicated lanes. BRT systems also can be funded by the toll revenue on those same thoroughfares. Despite longstanding energetic comparisons of rail with BRT, these arguments in favor of buses are tough to ignore.
Check out the following video that highlights BRT benefits:
Here's some compelling math from the Beaverton (Oregon) Valley Times:
A bus rapid-transit line launched in Las Vegas last year cost $3.75 million per mile to build. In Eugene, construction costs for the first four miles of a BRT project came in at $6.25 million per mile. That contrasts with $180 million per mile for the new Portland-Milwaukie Light Rail Project (not including the new bridge over the Willamette River).
"Per dollar of transit investment, and under similar conditions, BRT can leverage more (development) investment than LRT or streetcars," said Annie Weinstock, a director with the Washington, DC-based Institute for Transportation & Development Policy (ITDP), a non-profit group focused on promoting sustainable urban transit, in a presentation earlier this year.
In an ITDP report, Weinstock and colleagues cited data that hammers home this idea:
On average, the cost per mile of BRT infrastructure was less than one-half that of similar-quality LRT or streetcar systems. At the same time, BRT provided a similar, or sometimes higher, quality of service. In most cases, the cost advantages of BRT were considerably greater.
Keep in mind, though, that BRT isn't the same diesel-guzzling, exhaust-gushing, crowded, dirty bus that took me from New Jersey to New York City for years and continues to ferry commuters worldwide. Some of these buses were honored in a vintage bus festival in NYC recently:
In contrast, today's BRT systems are governed by rules of quality pertaining to their dedicated lanes, their stations, and a range of other criteria.
The ITDP released a set of BRT standards early in 2013 that itemize what makes a truly effective system. Included are specs for dedicated rights of way, places where fares are collected, accessible bike racks, and other elements of successful systems.
There are many examples of successful BRT systems worldwide, but oft-cited ones include Curitiba, Brazil; Las Vegas, Nevada; Guangzhou, China; Nantes, France; and Jakarta, Indonesia.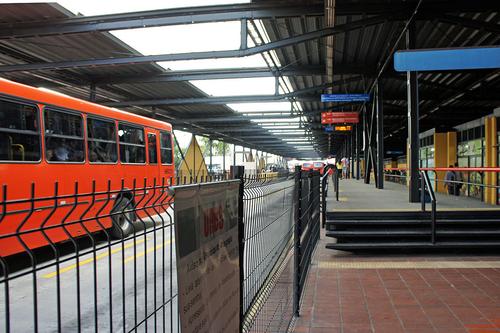 BRT isn't a guaranteed success. There have been systems that didn't take off; as documented examples in India and Virginia have shown.
The standards set by the ITDP (which were also supported by money from the Rockefeller Foundation and input from other organizations) can ensure that a system is based on proven infrastructure elements. It's also important to get the funding right. As in many other instances, public-private partnerships top the list of business models for BRT.
As a reluctant bus rider, I'm looking forward to trying BRT for a number of reasons, not least of which is advancement over the crowded, smelly rides of yesteryear. BRT also seems to be a more peaceful, less contentious way to do public transit, and I'm all for that.
Related posts:
— Mary Jander

, Managing Editor, UBM's Future Cities