Bike share has caught on in many cities, but a significant number of other municipalities are finding more bust than bikes in their plans.
In the North American cities of Portland, Toronto, and Vancouver, bike-share programs are struggling with woes emanating from questionable business models, vendor unreliability, and citizen outrage.
In Vancouver, for instance, the city council voted in July to allocate $6 million in public money to set up a bike-share program for over 1,000 bikes early in 2014. Now that plan has been put on hold, thanks to doubts about the viability of the bike hardware supplier.
That supplier is PBSC Urban Solutions, a firm partly owned by the Montreal parking authority. This company's Bixi bikes, which are wirelessly networked with solar-powered racks, have won design awards and are applauded in every city where they're used.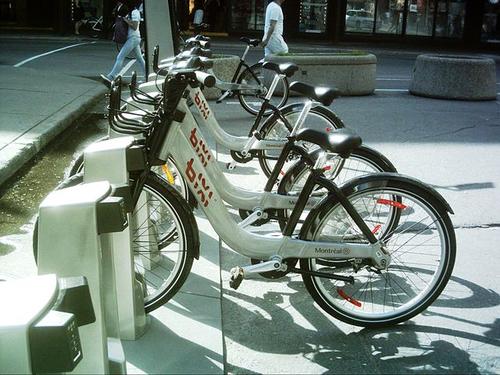 But PBSC isn't so successful. Though the Bixi system took off in Montreal, where over 5,000 bikes have hit the roads since 2008, the company itself has continually lost money. Over the last five years, Montreal has guaranteed loans of $108 million to keep the firm afloat.
PBSC seems to have several problems. The management of the company has lagged on financial reports, sloughed off inquiries about its finances, and allowed city officials like Montreal's auditor general to describe its negative financial position publicly, instead of stepping up to acknowledge its troubles. None of this has inspired confidence anywhere.
PBSC is also apparently embroiled in a lawsuit with a company called 8D Technologies, which claims its software is the main source of the Bixi system's success. 8D has refused to sell the rights to the software to PBSC, generating complaints that at least one Bixi-based bike-share system in Minneapolis, isn't getting software upgrades as promised in a contract with the city's bike-share operating company, NICE Ride Minnesota.
The situation with PBSC doesn't bode well for the leading international broker of Bixi bike systems, Alta Bicycle Share Inc., headquartered in Portland, Ore. Alta typically acts as an implementer, helping set up bike-share programs with city-owned operating companies, each of which has a unique business model. To date, Alta has used the Bixi system throughout its US implementations, and the company hasn't commented on how it might cope if PBSC goes out of business or fails to provide product upgrades.
Problems with PBSC could have a domino effect on other bike-share programs worldwide, but they aren't the only threat. Another issue is funding. In Toronto, the bike-share business model was based on a $4.8 million loan from the city, of which PBSC still owes $3.9 million. This has put the entire program in jeopardy.
When he was still at the helm of the city budget, Mayor Rob Ford panned the entire effort: "Bixi's a failure," he said this spring. "It should be dissolved. It's not working."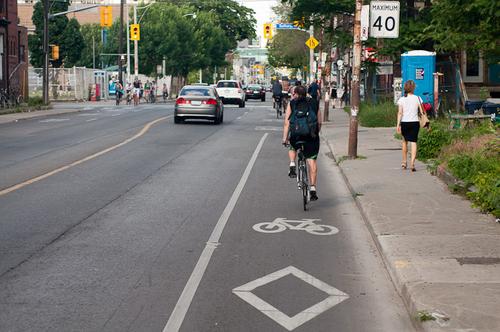 Toronto's city council voted earlier this month to bail out the bike program, firing up many outspoken opponents of the plan who insist that taxpayers shouldn't be responsible for bike share. One of these, National Post columnist Jesse Kline, had this to say on November 14:
[T]he answer to traffic congestion must not come in the form of financially unsustainable schemes that effectively take money from suburban taxpayers, so that white-collar urbanites can toodle around town with their green bona fides intact.
Similar sentiments were voiced about the Vancouver program in an editorial in The Province newspaper earlier this month:
One wonders when the green tyrants posing as municipal politicians at Vancouver City Hall are going to wake up to the fact that their $20-million bike-share boondoggle is a non-starter.

Public bike-rent schemes never fly without being massively propped up by often unwilling taxpayers or, as in the case of New York, huge corporate sponsorship. Bike shares in Canada to date mostly seem to be schemes to transfer large sums of money from taxpayers to the ideological pals of politicians.
Meanwhile, in Portland, Ore., the use of federal grant money to launch bike share hasn't helped get the program underway. The project continues to have problems attracting sponsors, and the issues with PBSC aren't helping.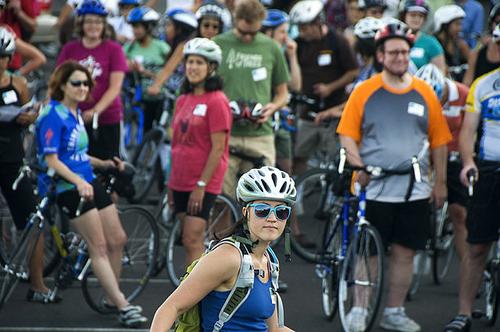 Indeed, the success of bike-share programs seems to hinge on getting really good private funding. This appears to be the key to the success of New York City's Citi Bike program, which is entirely funded by private sponsors.
It's a question, though, whether even the best business models will be sustainable if the bikes themselves can't be upgraded, or if supply is threatened by the insolvency of PBSC.
For those of us who believe that bike share is crucial to the future of our cities, it's time to tackle the problems that threaten it, including a lack of competition among suppliers and contractors. Bike share is too important to leave in the hands of one or two firms.
It may be, too, that other models, such as reimbursement of privately donated or even individually owned bikes might prove useful. Whatever works is worth exploring, and whatever doesn't work is worth discarding.
Inquiries I sent to Alta Bicycles and to PBSC, as well as to various city bike authorities, haven't been answered so far. I'll let you know what I hear.
— Mary Jander, Managing Editor, UBM's Future Cities