A city in India hopes to find its future by literally following the footsteps of a groundbreaking program in Bogotá.
This past weekend, the city of Gurgaon, India, 15 miles from Delhi, held its first Raahgiri Day, during which specified streets are closed to automobile traffic from 6:00 a.m. to noon every Sunday through the end of March 2014.
"Raahgiri day is one of the first steps towards making Gurgaon a sustainable and environment friendly city; a city which cares for its future and its resources, a city which is alive and whose citizens take an active part in what it becomes," states the event's website.
A coalition of local officials and community activists, Raahgiri Day is designed to make the city of 1.5 million more liveable and sustainable, especially given its enormous recent growth, which has been both blessing and burden.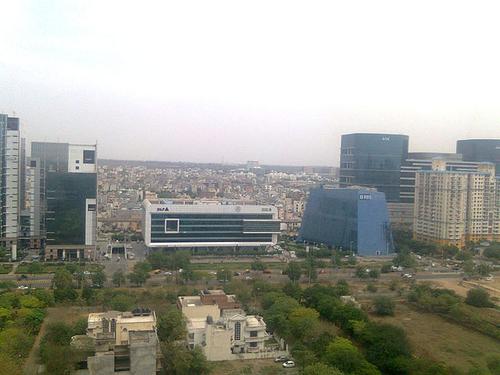 Nearly two years ago, the NY Times described how call centers and other incoming technology firms had produced a boom in Gurgaon that the city lacked the infrastructure to handle:
In recent years, Gurgaon has emerged as the third largest information technology (IT) center in India. It currently holds a 10 percent share in the country's software exports and employs roughly 200,000 people. Due to its close proximity to India's capital city, Delhi, a large number of skilled and semi-skilled workers have moved to Gurgaon in the last 10 years… Peak hour motorized transport demand is estimated to be about 370,000 by 2031 compared to today's demand, which hovers around 130,000. The impact of this significant increase in demand on transport infrastructure is a critical challenge for the city.
In contrast to larger Indian city Kolkata, which appears to be headed backwards in solving challenges of growth and transportation, Gurgaon is taking a progressive approach. The weekly car-free Sunday follows a pattern adopted in Latin America, most notably in Bogotá, Colombia, where the weekly "cyclovia" event established by former Mayor Enrique Penalosa has changed the city for the better, not just by improving the carbon footprint and health of its citizens, but by encouraging the mingling of formerly rigid socioeconomic classes. The video below lays it out nicely:
The success of this project in Bogotá has led to a range of other events that close the streets in other cities worldwide. Notably, many of these are restricted to one-day annual events. But in some cities, such as Tokyo, cycle- and pedestrian-friendly days have been a serious civic effort to reduce reliance on cars, encourage healthy lifestyles, and generate citywide camaraderie.
Gurgaon hopes Raahgiri Days will produce similar results. "It's a new beginning for Gurgaon," said stated police commissioner Alok Mittal. "This is an attempt to reclaim the roads for the cyclists and pedestrians. And we are going to do this every Sunday of the week from now on. I hope the message will spread, and more and more people will start participating."
Kolkata, take a lesson: If Gurgaon's ongoing success is boosted further by this kind of effort to improve not only its physical but its spiritual infrastructure, this city will be eating your lunch.
Related posts:
— Mary Jander, Managing Editor, UBM's Future Cities