A municipal website is a digital key to the city, a visitor's first encounter with its brand. It's important to get it right.
Sadly, while lots of cities worldwide get this message, a few still don't. Great websites are not high on the list of priorities for many municipalities, even some of the world's largest. (Sao Paolo, Brazil, I'm looking at you!)
A recent report from Gizmodo notes that crummy city websites have a common look and feel: Information is crowded and poorly organized; graphics are ugly. It's hard to find what you're seeking.
In contrast, cities doing it right also have things in common. Some of the outstanding sites provided by the world's biggest cities achieve the following:
Address the needs of users. When New York City recently redesigned its portal, it aimed to deliver what people were actually looking for most -- such as public information offered via phone number 311 about parking, school closures, sanitation, etc. Tailoring the portal to deliver key data has been an enormous change for the better.
Offer language choices. Check out New York's portal again. You can access this site in any one of 71 languages. That's ideal -- and relatively rare in civic portals. Too bad, since most large cities are also international meeting places. While London's portal is one of the world's very best, it lacks this feature, earning it a huge demerit.
Make it easy to get things done. People come to a city's portal for help with things like complaints, licensing a cat or dog, finding out how to apply for residency, etc. You'll find all this on sites for New York; London, England; and Shanghai, China -- and in the e-governance section of Mumbai's portal.
Provide a list of key events. Visitors and residents to big cities want to know what's happening there. London and New York's portals have "Events" tabs prominently displayed on their homepages, and it's easy to drill down, searching for events by date or location. Bravo! Seoul's portal, while no way as slick as these others, also features events. By comparison, Tokyo's English-language portal lacks this feature -- and many others.
Serve business. One big reason to have a municipal website is to attract and inform investors. The city of Barcelona's portal is ideal for businesspeople, offering easy facts and figures, itemized reasons to invest in the city, an explanation of the city's industrial sectors, and a list of "economic agent" contacts, such as the chamber of commerce, colleges, airports, and professional associations. Now look at Moscow's portal, thick with text and business information that's hard to read.
Focus on the interface. Sites like Hong Kong's work, in part, because they're graphically engaging. Sites like Moscow's and Lagos's -- not so much.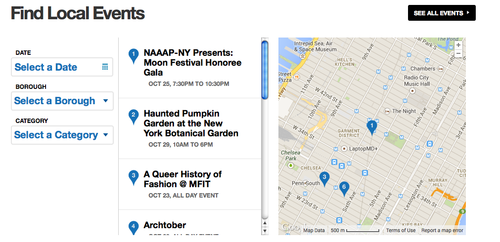 The features listed above are shared across most great city portals. Below is a list of five websites, some previously mentioned, that serve as great digital keys to their respective cities:
What about your city? Does it have a great portal? Does it need one? Let us know on the message board!
Related posts:
— Mary Jander

, Managing Editor, UBM's Future Cities