A team of Canadian MBA students has won $1 million to alleviate urban hunger with insect-based foods.
In New York City this week, five post-graduate entrepreneurs from McGill University in Montreal were awarded the prestigious Hult Prize in a ceremony led by former US President Bill Clinton, who served as a judge for the competition.
President Clinton also originated the challenge topic on behalf of the Clinton Global Initiative, which has a partnership with the Hult Prize for the annual competition. This year, teams were challenged to "create a social enterprise that will secure food for undernourished communities and particularly for those 200 million people that live in urban slums."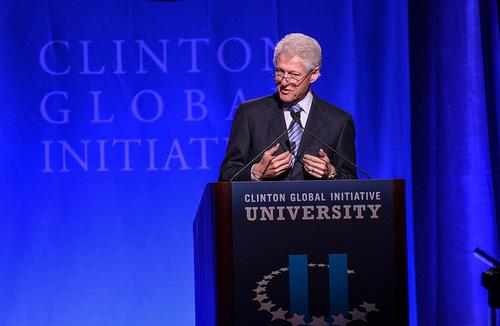 The winning team of Mohammed Ashour, Gabe Mott, Jesse Pearlstein, Shobhita Soor, and Zev Thompson, all students enrolled in the Desautels McGill MBA program, will use the prize as seed money to expand their venture -- a project called Aspire Food Group that aims to farm, produce, and sell edible insects in urban slums worldwide.
More on the project is shown in the video below:
The value of insects as food is increasingly recognized by experts in sustainability, as we've written on before. Typically, much discussion centers on a cultural aversion to entomophagy (eating insects).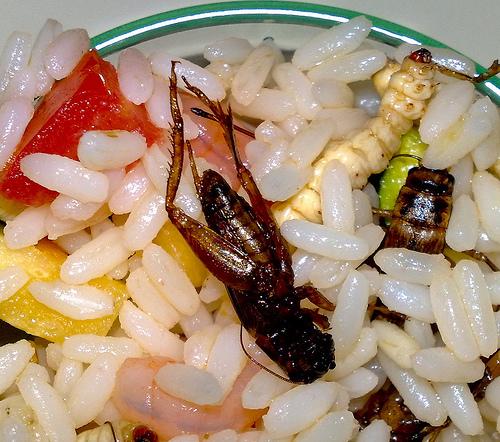 That's not the case here. Aspire notes that roughly 2.5 billion people worldwide already eat insects, so eliminating inefficiencies that are holding up their wider use as food in those regions -- making them available year round, for instance -- creates an opportunity to eliminate hunger in urban slums. Since insects are already on the menu, it's a matter of bringing supply to demand.
"Insects (or micro-livestock) are already a significant food source and they often have superior nutritional profiles to conventional livestock," team member Gabe Mott said in a CBC interview this week. "The real issue is that they are... only available for a few months (or less) a year... [and] they are hand harvested, a labour intensive process which significantly inflates their cost."
In an email to me, Mott made clear that Aspire isn't looking to create urban insect farms, although vertical farming of livestock makes farming insects, or micro-livestock, a future possibility. "However, our interest is to focus on feeding people in urban slums, and, from our research, they have neither the space nor the inclination to farm insects," Mott writes. "Instead, we are focusing on rural and peri-urban farmers. Essentially it is our experience that people who already make a living growing food are interested in different ways to grow more food."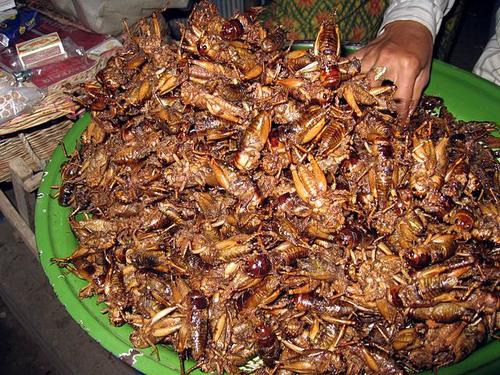 Aspire is working with design engineers, Mott says, to create models for farming insects in large units, even replacing large livestock in some areas. In addition, Aspire will grind up preferred local insects (crickets in Kenya, grasshoppers in Mexico) and add them to cassava, corn, or wheat flour. The result, "tastes extremely similar to pure flour," the group's website states. It also notes: "Other food products include cricket snacks, such as roasted pepper and lime cricket chips, as well as health supplements."
Aspire will start slowly. The group's pilot projects, notably one in Kenya as well as an imminent project in Mexico, will take a couple of years to bring to full-scale production. "We feel that it is important to focus on our strengths and not spread ourselves to thin at the beginning," Mott says.
The $1 million Hult Prize is donated annually by the family of Swedish businessman Bertil Hult, founder of EF Education First, a privately held corporation specializing in educational travel, language training, and degree programs. The company's Hult International Business School has locations in Boston, San Francisco, London, Dubai, Shanghai, and Sao Paulo.
The prize is administered through a separate entity called the Hult Prize Foundation, headed by former business student Ahmad Ashkar (who talks in the video below about why he founded the prize four years ago). A partnership with the Clinton Global Initiative gives the prize the input of world leaders in business and the public sector, including Bill Clinton.
The competition starts with a specific challenge -- this year, food insecurity in urban slums. Winning teams are chosen from at least 10,000 students culled from regional competitions in each of the Hult International Business School sites worldwide. In the summer, the teams take their proposals to an on-site session at a startup accelerator in Boston. From there, winners go on with honed projects to a final "pitch off" at the Clinton Global Initiative annual meeting, where the judging takes place live and is followed by the awards gala.
I'm in the group of people whose culture and background presents an impediment to eating insects. Still, even I might be able to work with the ground-up version if I knew there was a health benefit -- which apparently there is: Bugs offer a fat-free protein proposition much healthier than beef.
(Then again, I'm not big on beef these days, either.)
While I work on my own perceptions, it's good to see such a significant effort put into a very practical approach to urban hunger. This year's Hult Prize winning team has proven the value of using the tools at hand to forge solutions that fit and improve the context of specific cities. There's wisdom in the approach as well as the proposal.
Related posts:
— Mary Jander

, Managing Editor, UBM's Future Cities