If your city uses civic hacking to create transit apps, be warned: You'll be getting a bill for five figures from Martin Kelly Jones.
Mr. Jones is a software developer who claims to have invented technology that tracks and issues alerts about scheduled package deliveries or vehicle arrival and departure schedules. While he has no product of his own to sell, he sues anyone he can find who's developed an app he believes violates his numerous patents.
That includes public transit authorities, which often issue apps that help users of bus and rail services track scheduling. Some of these are part of civic hacking projects, created by volunteers.
Recipients of the license fee demands typically come from Melvino Technologies Ltd., a firm based in the British Virgin Islands that holds the intellectual property associated with Jones; and the technologies' sole licensor, ArrivalStar SA, registered in Luxembourg. In Canada, a firm known as Dovden Investments Inc. is also involved.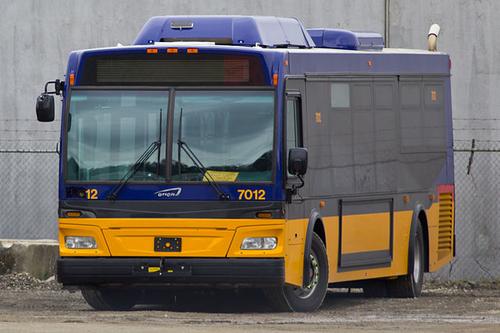 This was the case with Larry Dunkelman, an unemployed amateur programmer, who was hit back in May with a $10,000 licensing fee by Dovden for his Ottawa public transit "BusBuddy" app.
"They claim to have patented the method of using GPS location on vehicles to determine when they will arrive at a certain place," Dunkelman told the Ottawa Citizen newspaper. "This applies to buses, package delivery, airplanes, trains -- any business that employs a fleet of vehicles in which they track their location to arrive at a certain place, is open to this patent troll."
Martin Kelly Jones claims (through various attorney spokespeople) to be an inventor defending his rights. Not having a specific product of his own is just like the Wright Brothers, who also didn't manufacture or make products based on their technology.
Still, his tactics have hurt innovation in transit apps, as well as some small businesses. Such was the case when Aaron Bannert of San Francisco nearly went out of business when hit with demands from Martin Kelly Jones's companies that he pay to license the tech for his transit app -- which won a local civic developers' award. Ultimately, Bannert settled, but was shaken.
Over the last few years, Jones, through his associated companies, has filed over 225 lawsuits against individuals, other companies, and public transit authorities deemed to have used the techniques he originated for tracking and alerting riders of public transit. While entities such as Ford, Volvo, and American Airlines can afford to send a five-figure check and forget about it, many defendants aren't as cavalier. They've often paid the fees to avoid court, a threat that so far, none of Jones's firms has acted on. Intimidation usually does the trick.
While a few individual targets have tried to fight back, it's been a growing roster of transit umbrella organizations that have offered the most resistance. When Jones and his firms demanded payment from entities such as Seattle's King County Metro Transit, Illinois Commuter Rail, Massachusetts Bay Transportation Authority, Greater Cleveland Regional Transit Authority, and the United States Postal Service, for various scheduling apps, they wound up in court with the American Public Transportation Association (APTA). That case was finally settled last month, when ArrivalStar agreed to back down on suing any of its member transit authorities or their vendors.
"This is a good day for the public transportation industry and now public transportation agencies and businesses can move forward with innovative technology without threat of baseless litigation," said APTA president and CEO Michael Melaniphy in a prepared statement. The same press release called ArrivalStar's lawsuits "frivolous," and its patents "invalid and unenforceable."
Meanwhile, the Canadian Urban Transit Association (CUTA) on August 20 filed its own suit against Dovden Investments, the holder of Jones's Canadian patents. "Dovden's threat is costly litigation," said Michael Roschlau, CUTA president and CEO, in a prepared statement. "Most publicly funded transit agencies could not sustain such legal costs in addition to efficiently serving transit users on a daily basis. At the same time, responsible public authorities cannot ignore a patent infringement law suit or the opportunity to settle such a suit." The action remains unresolved.
When I called Dovden's attorney, Vancouver-based Bruce Lemer, he said he couldn't really comment on any outstanding litigation or any specifics about his client. He said he'd call back if Martin Kelly Jones agreed he could offer more information. Stand by.
I also called William R. McMahon, a US lawyer who represents Jones, but haven't heard anything back.
My take on this situation? Martin Kelly Jones no doubt invented something, though, like other software developers, he must face the fact that software, unlike some other inventions, is often based on ideas that can't in themselves be fairly owned by anybody. Too often, claims to own a process or a way of communicating result in firms setting up shop just to litigate for licensing fees, becoming "non-practicing entities," or more unkindly, patent trolls.
Firms like ArrivalStar throw up roadblocks not only to cities looking to offer helpful services apps. They also stifle small businesses and startups, which can't survive a patent attack from a larger firm.
It's time for openness. It's time to stop fighting the inevitable. It's time to grow together, not hoard ideas for profit.
Related posts:
— Mary Jander

, Managing Editor, UBM's Future Cities