Noise pollution, already an issue in New York City, has risen a few decibels, spotlighting an ongoing problem the city shares with others worldwide.
The New York Times recently reported on rising noise levels in the borough of Queens, following a ruling by the US Federal Aviation Administration that shifts flight plans in and out of local airports, resulting in more noise over a concentrated area.
Airport noise is only one element in the city's roar roster. There are many others, including jackhammering, HVAC systems, helicopters, and the ubiquitous traffic. While New York has a noise code, it hasn't seemed to dim the din.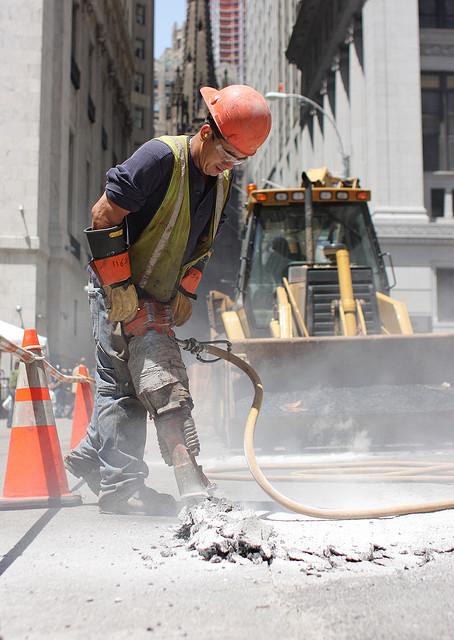 Needless to say, New York isn't the only city with a noise issue. In Hong Kong, thousands of annual complaints are aimed at the noise generated by construction and traffic noise.
"Much of the fault lies in the way our city has been planned; roads and highways are built close to residential buildings," writes Michelle Wong, a communications manager at Civic Exchange, a non-profit Hong Kong think tank, in a recent opinion column. "The 'wall effect' of streets and buildings makes for slower noise dispersion, resulting in levels that frequently exceed the acceptable guideline of 70 decibels."
The World Health Organization (WHO) recommends noise levels lower than 30 to 55 decibels, depending on specific activities. Sleeping well, for instance, calls for noise levels under 30 decibels.
Health problems resulting from too much noise include poor work and school performance and even cardiovascular problems, WHO says.
In India, city noise has generated many complaints. "Because of the noisy environment, cases of deafness are rising," one government physician told the Hindustan Times. "Our ears are getting exposed to excessive noise levels on [a] continuous basis and sleep and mental peace are being disturbed."
The video of Mumbai traffic below leaves little doubt about why noise in the city is disturbing:
What to do? According to the NY Times, soundproofing is possible, but it's expensive: Treating windows and walls with barriers, panels, or soundproof layers of insulation can cost thousands of dollars for just one apartment or condo.
Noise laws are in effect in many cities, but they can prove ineffective. In the East Texas city of Kilgore, for instance, fairly high noise allowances have spawned a kind of "battle of the bands," with one resident turning up the volume on music in opposition to a restaurant's loudness. Neighbors caught in the crossfire are helpless to stop the noise, since both parties are within the city's allowed noise level.
City governments are finding the noise challenge more complex than simply zoning out high-decibel activities in certain hours. In Israel, for instance, police are now allowed to enter residences in pursuit of noise polluters. But police alone can't solve the problem. "Police patrols respond according to urgency and they can't always respond to these calls, and citizens simply suffer," said Israel's Public Security Minister Yitzhak Aharonovitch, quoted in a recent news report. To help the cops, local inspectors from have also been granted the power to detain suspects in their cities and towns, and to join patrol teams with police.
In addition, Israeli authorities have worked to identify places like parks that are prone to noisy parties. Extra lighting, security cameras, and even fewer bushes have helped to eliminate noise-generating activities.
In Mumbai, one project has students measuring noise levels throughout the city, via a smartphone app. The results will be used to create a noise map identifying hot spots in Mumbai -- a project that's long been discussed in the city.
"The idea is to create awareness among young people and make noise monitoring widespread. Readings from various areas will give a comprehensive idea of the noisiest locations in the city, be it during festivals or otherwise," said Sumaira Abdulali, convenor of the Awaaz Foundation, a non-governmental organization active in environmental issues in India.
Noise mapping is a common technology, used by environmental researchers and consultants. In London, for instance, the firm of Bickerdike Allen Partners offers an acoustics practice geared to soundproofing the built environment as well as "the control of noise in the wider environment."
Noise mapping is dramatized in the following short video, produced several years ago by an acoustic lab in Portugal:
Clearly, noise will continue to be a problem in the world's large cities. Solutions are bound to be costly and complicated -- and some parties won't be pleased with them. Still, this problem has become as important as any other threat to the quality of urban life and must be addressed.
Related posts:
— Mary Jander

, Managing Editor, UBM's Future Cities