While urban planners design sustainable cities with improved access for cyclists and walkers, their plans often leave out a major city minority -- the disabled.
I'm talking here, not only about people in wheelchairs, but about those who can't walk at a normal pace, for whatever reason, those who can't see or hear normally, and the elderly.
For these people, cities are full of barriers. Take, for instance, the staircases in the subway. The alternative is to take the elevator, which is usually out of sight somewhere, and when accessible, reeks of filth and just looks dangerous.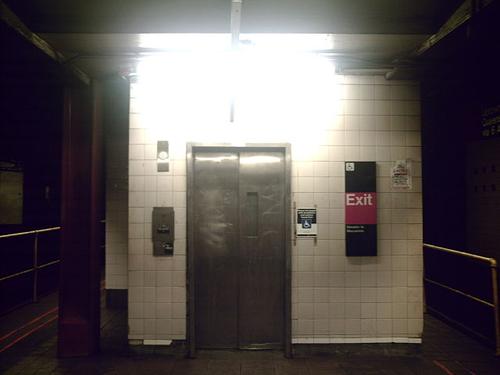 Then there's the act of simply crossing the street in a place like New York City. How to get there before the light changes -- and avoid that racing bicycle messenger, the cabbie with a killer instinct, that girl on rollerblades?
There is no shortage of urban rhetoric about accessibility. In Chicago, New York City, Paris, Tokyo, and dozens of other cities worldwide, disability is given many pages of descriptive website text, but the reality can be far from enabling.
"Tokyo can be a nightmare for travelers with disabilities," states the online travel guide Frommers. "City sidewalks can be so jam-packed that getting around on crutches or in a wheelchair is exceedingly difficult... Although most train and subway stations have elevators, they are often difficult to locate. A few stations are accessible only by stairs or escalators."
Another travel writeup describes Paris: "Wheelchair-intolerant cobblestone streets; out-of-order or nonexistent metro elevators; cafe bathrooms in basements accessible only by narrow spiral staircases -- you name it. For visitors with disabilities or limited mobility, Paris can seem like an obstacle course."
Will situations like these improve as cities get redesigned with sustainability in mind? After all, environmental activism is often linked with progressive thinking in other areas.
Still, there seems to be remarkably little connection between sustainability and accessibility. Instead, the push toward what is known as universal access, or designing the built environment with a view to inclusion of all physical types and capabilities, is gaining momentum from the increasingly aging population. In a recent blog, "Where will we see the first Universal Design cities?," Ben Hamamoto, a research manager at nonprofit group Institute for the Future, wrote:
As the whole world's population ages, it creates new imperatives for Universal Designódesign intended to be "aesthetic and usable to the greatest extent possible by everyone, regardless of their age, ability, or status in life." It's still not certain who the authorities for universal design might be, but the could emerge from some surprising places.
Hamamoto notes that Thailand is funding its Chiang Mai province to build facilities for senior citizens looking at extended stays in the region. This kind of support, says Hamamoto, could be the impetus required to boost universal design in cities worldwide. "Places like Chiang Mai could lead the world in innovating urban spaces for seniors, and could, in essence, become authorities on universal design."
There are other efforts underway in support of better urban design for disabled people. The United States Access Board, for instance, a US federal agency dedicated to boosting accessibility, has committees studying how to make urban transportation, including light rail, more accessible; how to modify shared-use paths in city recreation areas; and how to improve emergency housing for disabled people.
The Americans with Disabilities Act (ADA) also works to promote accessibility in the built environment, and its standards are supported by groups like the US Access Board. While not all ADA standards are mandated by law in the US, they at least offer guidelines for planning.
Some architects and urban planners are specializing in universal access. In St. Louis, the firm of McCormack Baron Salazar has built, among other things, 6 North Apartments, a universal access apartment complex designed as a reuse of urban land.
"This is the first fully universally designed, mixed income, multi-family property in the U.S.," boasts the website of the Universal Design Summit 5, a conference on universal access housing and neighborhoods scheduled to take place next month in St. Louis.
The existence of such a conference is a beacon of hope that, given time, cities around the world will adopt universal access as a fundamental element of urban planning.
Related posts:
— Mary Jander
, Managing Editor, UBM's Future Cities