The sewer systems of US cities are getting a slow but sure overhaul that's raising awareness about water conservation and the potential for technology to help clean up urban wastewater facilities.
A recent PBS report on Detroit's sewer system illustrates the situation. In a related blog, PBS correspondent Miles O'Brien wrote:
Our big cities sit on top of a spider web of water mains and sewer lines that are often 100 years old. They were designed and built well by our forefathers but have been neglected by our generation for lack of funding.

The American Society of Civil Engineers graded the overall health of the water and sewer infrastructure in the U.S., and it barely passed -- earning a D-minus.
The report O'Brien refers to is over three years old. In the interim, projects have continued nationwide to fix outdated city sewer systems. But they face an uphill struggle against government neglect and public indifference.
In the PBS show, Gregory E. DiLoreto, president of the American Society of Civil Engineers, stated that more than $84 billion in additional federal funding over the next eight years will be required to get US water and sewer systems up to par, replacing outdated combined sewer systems that combine rainwater and other kinds of wastewater with sewage in one pipe. The preferred alternative is a system that isolates sewage from other runoff.
There are a range of technologies available to help US cities cope with these and other sewer problems. There are biological solutions, injectable "trenchless" pipe linings that extend the life of old pipes, and control systems that help track the health of municipal sewer systems.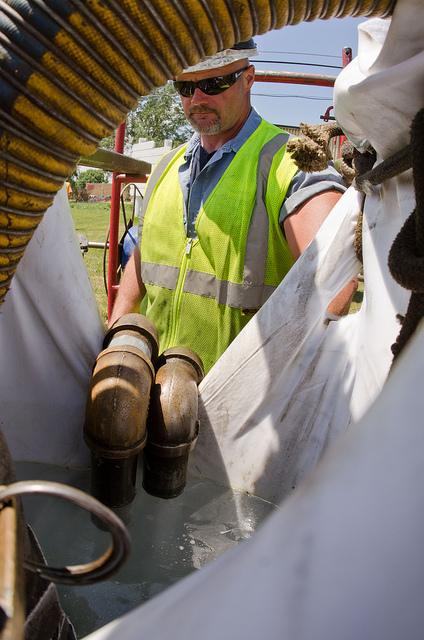 Most cities are finding that wastewater treatment rehab is best undertaken as part of a water management overhaul. The city of San Antonio, Texas, for instance, earned star billing on the PBS show for its program of water conservation. By recycling water and offering citizens incentives to save water, the city has been able to keep water use close to what it was 25 years ago, despite having 67 percent more customers.
The city's water utility has actually been able to close one treatment plant. "The water that you don't use, you don't have to treat," Robert Puente, CEO of the San Antonio Water Service, told PBS.
San Antonio is also recycling its water, a precursor to the "toilet to tap" methods under consideration by some US municipalities.
The struggle for more sustainable wastewater treatment continues, despite these small triumphs. Clearly, it's time to throw more funding and effort at the problem. In a blog in November 2012, one expert, Jeff Eger, executive director of the Water Environment Federation, wrote:
Our essential water infrastructure is failing and is woefully inadequate to address the 'new normal' weather patterns... Broken and leaking pipes cause the loss of nearly two trillion gallons of drinking water per year at an annual cost of $2.6 billion. Restoring existing drinking water systems and expanding them to serve a growing population will cost at least $1 trillion over the next 25 years. At current funding levels, there will be a funding gap of at least $224 billion nationwide over the next 20 years.
To those who say jobs are more important than water infrastructure, Eger quotes the National Association of Utility Contractors: "For every $1 billion invested in water infrastructure, 26,000 jobs are created."
To that, I say let's raise a glass of clean, potable water.
Related posts:
— Mary Jander
, Managing Editor, UBM's Future Cities