As many readers know, I developed a smart cities framework (the
Smart Cities Wheel
) and a set of indicators to benchmark and rank smart cities around the globe. Vienna has regularly scored amongst the highest in the world on my ranking. So of course I felt honored to be invited to participate in a smart cities event alongside Mayor Michael Häupl last week.
The event coincided with the public launch of their recently released Smart City Framework Strategy. Vienna is among a leading group of global cities that are recognizing the importance of establishing long-term strategies (out to 2050), and that are making a commitment to establishing tangible metrics to measure their progress.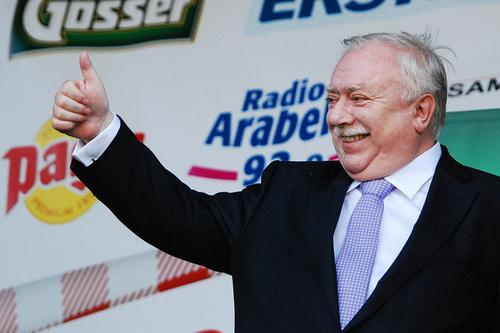 In the case of Vienna, of course, they are already starting with an envious baseline. About a century ago, Vienna began its pioneering work to develop and guarantee a large supply of subsidized social housing. Today, Vienna has about 400,000 such residences available throughout the city. And these are not slums on the outskirts, but rather nicely designed buildings integrated into neighborhoods throught the city. Vienna also has a long-standing commitment to being green, through a sustainable water supply, nearly 50% green space, and a growing renewable energy profile.
With this foundation, their Framework Strategy focuses on three key areas:
Resource Preservation
Innovation
Maintaining and increasing the quality of life for all residents
The Framework Strategy recognizes the potential for cross-cutting projects yet seeks to dive deep into each of the three key areas and establish some high-level benchmarks.
For resource preservation, the city aims to maintain the ratio of greenspace at 50% of total land area, and to reach 50% renewable energy penetration by 2050. The city also has established goals for energy efficiency, emissions reductions, and mobility. For example in mobility, Vienna aspires to have only 15% of total transit trips conducted via motorised individual traffic by 2030.
Regarding innovation, Vienna seeks to become a magnet for researchers and innovators. This is an area where Vienna has plenty of work to do, because althoug they do have several important research universities, Vienna has less of a track record in entrepreneurship and commercialization of innovation, compared with other cities in the region -- such as London, Berlin and Barcelona. Vienna has established a few tangible targets for innovation including facilitating 10,000 startups annually, and increasing the ratio of technology-intensive exports to 80% (from 60%) by 2050.
Finally, on the quality of life front, Vienna is already a global leader, regularly being recognized as offering the highest quaity of life of any city in the world. What is unique about Vienna's strategy, is its very strong commitment to social inclusion, based on sex, gender, income levels, and nationality. Vienna has already received accolades for its commitment to ensuring female participation in strategy formulation and implementation in a range of civic projects.
This having been my second visit to Vienna in the past 12 months, I have had the opportunity to immerse myself more in what makes Vienna tick. During my last visit, I rented a bike in their bikeshare system (note to Barcelona and other smart cities: bikesharing should be accessible to tourists, not just residents!) and rode around the city center. It is a compact, green city. Their public transit is also top notch.
During my visit last week, I had the opportunity to experience their excellent metro system (another note: The metro runs until around 5:00 a.m. on most days), as well as the light rail system and even the train between the city center and the airport. One area where Vienna needs more work to become smart is in the provision of public WiFi. While residents in wealthier cities usually have generous data plans, international tourists do not have such easy access, and it was very difficult for me to find WiFi throughout the city. The Framework Strategy, however, articulates goals for WiFi access throughout their transit network and in public areas within three years.
While Vienna has plenty of opportunity for improvement, it is definitely a model city on the right path to being smart and inclusive. Their Smart City Wien group has more than 100 projects in their portfolio and their Mayor (who is going on 20 years in that role), has an impressive commitment to thinking very long-term, and to continuous improvement on their smart cities path.
This is evidenced by a unique effort to formally institutionalize the Framework Strategy by the city council. Vienna is one of the only cities I have interacted with which has a legally binding commitment to achieving their stretch goals -- in this case, by 2050. There are good reasons why so many people see Vienna as a desirable city to move to.
Related posts: