Is a building green because the owners have installed compact fluorescent lights? Is a company a climate leader because it implemented an energy efficiency program in one of its factories? Is a city smart because it opened 20 databases for public use?
In all of these cases, I think we can say the answer is a definitive no.
A truly green building must start with the location: Is it close to transit? Is it a brownfield development? What kind of materials did they use in the construction? Is it energy efficient (beyond the light bulbs, of course)?
Some of my early work in the sustainable innovation space was in the green building and green neighborhood development communities. The green building community benefited greatly by the introduction of rigorous standards programs like LEED in North America and BREEAM in the UK. Those standards established a baseline for what a green building is and what it is not.
It is normal for industries in their infancy to lack common definitions and standards. This is certainly the case for the smart cities arena. Cities around the globe are getting on the smart cities bandwagon. Yet like the early days of the green building industry, it's a bit like the Wild West right now. Can the average citizen, company, or elected official know if they are actually living in a smart city?
The smart city movement is similar to the sustainability movement in that no company is truly sustainable, and no city is truly smart. Rather, cities and companies are on a journey toward being smarter and more sustainable.
The green building industry has moved out of the Wild West and into a professional community whereby building projects can be compared and claims of greenness can actually be corroborated.
I think it is time to begin establishing some minimally acceptable standards for a city to claim they are on the smart journey. For me, this hunch is reinforced when I receive and read dozens of articles from companies and cities seeking to promote their "new smart city."
As many Future Cities users know, I am currently based in Buenos Aires, and I am fairly active in the smart cities movement in Latin America. So it came as a surprise to me when I received an article about the first smart city being launched in Latin America. To be clear, while smart grid and sensor technologies are components of a smart city strategy, their use does not mean a city is smart already.
As I worked over the past few years to develop a framework and approach to benchmarking smart cities, it became obvious that we need to move beyond one-off ICT projects and help cities develop holistic strategies in collaboration with their citizens.
To that end, I developed a tool I call the "Smart Cities Wheel." It was designed to resemble a bicycle wheel and contains six key components and three drivers for each component. The components include: Smart Economy, Smart Environment, Smart Governance, Smart Living, Smart Mobility, and Smart People.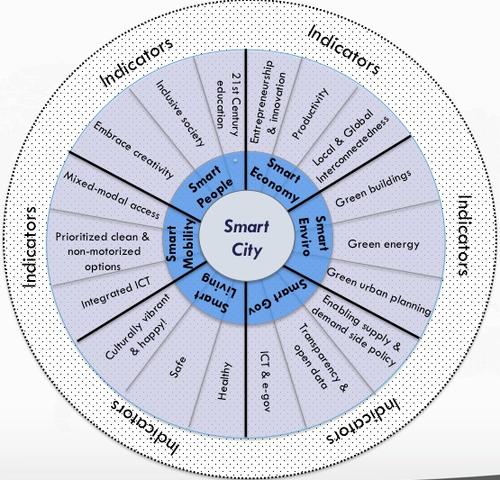 I believe this tool has the potential to support the development of holistic smart city strategies, developing baselines, and tracking and transparently reporting progress. In fact, I have just embarked on a project with the City of Buenos Aires to develop a baseline of the City's current progress based on the Wheel, to be followed by the development of a mid-term and long-term strategic plan.
I have also already used this tool to benchmark cities in different parts of the world -- UBM's Future Cities will be publishing my first ranking of Asian-Pacific smart cities in just a few weeks.
As a final note, I believe all cities should have flexibility to determine how they want to prioritize each component of the wheel and what strategies and activities they will implement to get there -- just like those developing a LEED-certified building or neighborhood can choose their own strategies to obtain target performance on dimensions like energy, materials, and indoor air quality.
Related posts:
— Boyd Cohen, PhD, Urban and Climate Strategist