On this First Friday of February, join us as we check in on some mayors and see what's in store for cities of the future!
As you may (or may not...) have noticed, we skipped last Friday's Mayoral Mania, so we'll capture a bit of what we missed last week as well. Here goes!
Kasim Reed still on the "Snowlanta" defense: It was a rough couple of PR weeks for Mayor Kasim Reed of Atlanta, after two inches of snow left his city paralyzed and commuters stranded. (See Atlanta's Snow Mess: An Urgent Call for Resilience.) It didn't help that the mayor and his staff did little to accept responsibility for the city's unpreparedness and spent more time finger pointing and rejecting blame. For example, in response to a tweet suggesting that New Yorkers are laughing at Atlanta, Reed tweeted back: "Considering NYC's most recent snow response, they may want to save their laughter." Burn!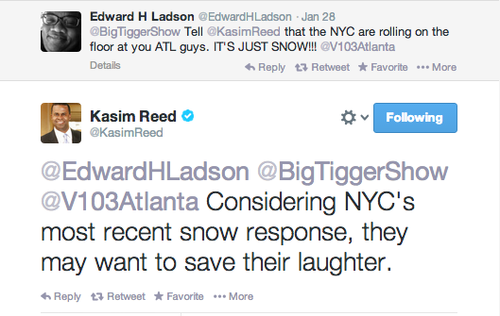 In any case, on January 30, Reed's office issued a series of proposals to better prepare the city for future weather events. The list includes pretty basic and rather uninspiring things, like forming a Mayor's Task Force on Weather Preparedness, the hiring of an Atlanta Emergency Management Executive, and a request for the City Council to "appropriate funds to expand pre-treating and de-icing capabilities." (Read the full release here.)
Bill de Blasio to boycott St. Patrick's Day Parade: New York's Mayor Bill de Blasio has gone on record saying he will not march in the city's St. Patrick's Day Parade, which, unbelievably, does not allow gay-rights groups to participate, seeing as being gay goes against the teachings of the Roman Catholic Church. According to Reuters, de Blasio will be the first New York mayor to bow out of the parade for this reason since David Dinkins in 1993 (the last Democrat to lead this city). Well done, de Blasio.
New Orleans's Mitch Landrieu wins second term: Mayor Mitch Landrieu of New Orleans won reelection with 64 percent of the vote on Saturday. While Landrieu was lucky to have the endorsement of US President Barack Obama, he's also likely to have been victorious without it. As The New York Times reports, every New Orleans mayor since the 1930s has won reelection. However, as the paper further reports, "few have won so handily in back-to-back races. Mr. Landrieu's victory, for the second time, came from large numbers of white and black voters, making him a white mayor with a broad base of support in a majority black city."
We offer our congratulations to Mayor Landrieu and hope he'll continue to help the city -- still suffering from the devastation of Hurricane Katrina -- get back on its feet.
Rob Ford ticketed for jaywalking: Hey, weren't we just talking about ticketing jaywalkers? Well, it turns out that Mayor Rob Ford of Toronto was ticketed for the offense during a recent visit to British Columbia. His fine was $109.
Since then, Mayor Ford has told the media that he was singled out and ticketed, just for being Rob Ford: "I support the police – they've got a job to do, they do it. But she picked me out and said, 'You're Rob Ford, come with me,' " he told reporters.
I know from the responses on my blog this week that we're by and large not great fans of ticketing jaywalkers here in this community... but I'm personally willing to make an exception in the case of Rob Ford.
Winter Olympics starts in Sochi; no watching in Oslo: Today marks the first official day of the Winter Olympics in the city of Sochi. (See more from Mary on this subject, here: Sochi Issues Could Mar Games' Success.) Last week, Sochi Mayor Anatoly Pakhomov, perhaps in a state of voluntary delusion, told the BBC that there are "no gay people" living in his city: "It is not accepted here in the Caucasus where we live," he said. "We do not have them in our city."
Hmm, whatever you say, Pakhomov! But, seeing as the LGBT community is being victimized in Sochi, perhaps it's for the best that the city's leaders believe their own lies about gays' non-existence for now...
In other Olympic drama, the mayor of Oslo drew ire by banning municipal employees from watching live streams of the events while at work. The mayor was quoted as saying, "We are going to have to be a little strict. We have a job to do for those who need us, and we need to set limits."
Jon Stewart teaches Bill de Blasio to eat pizza: And finally, to circle back on one of the most important stories we reported on recently, Mayor Bill de Blasio of New York -- in between battling snowstorms that just won't stop coming... ahhhh!!! -- has officially been schooled by Daily Show host Jon Stewart on the art of eating pizza. You can watch the segment for yourself below (apologies to those not in the US who may not be able to view this video):
Previous Mayor's Desk Updates:
— Nicole Ferraro, Editor in Chief, UBM's Future Cities