A rare snowfall of two inches on Tuesday completely paralyzed the city of Atlanta, leaving
thousands stranded on icy roads
.
By Wednesday morning, there had been nearly 800 accidents (fortunately, with no fatalities, according to Mayor Kasim Reed); and many individuals were still stuck in their cars. Several people who got out and abandoned their cars Tuesday evening were taken in by local stores like CVS, Home Depot, and Publix, which opened their doors to stranded travelers who needed a place to spend the night: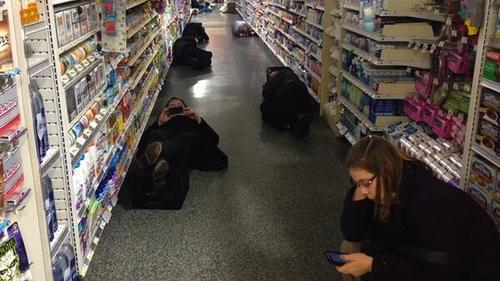 In an exchange with CNN, Mayor Reed expressed agitation that businesses and schools sent people home at around the same time on Tuesday, as the snow was hitting the city.
"I said immediately yesterday that releasing all of these folks was not the right way to go," he said, in what CNN described as a "testy exchange."
"Testy" is probably an understatement for what the mayor of a city typically known as "Hotlanta" must be feeling as his citizens sit in their cars, paralyzed by ice and snow. CNN further reported that the mayor said things will be more coordinated next time:
"People were making a lot of independent decisions," he told reporters Wednesday. "What we will do in the future is try to coordinate that, and make a strong recommendation about how that should flow."
Sorry, but that won't quite do.
A winter storm may be rare in Atlanta, just as a hurricane may be rare in New York. However, seeing these as one-off events and basic learning experiences is a great way to be ill prepared next time around. What's needed now isn't a shoulder shrug and a commitment to "try to coordinate that" in the future. What's needed is a plan for resilience, and a commitment to upgrading road and transit infrastructure so that 1 to 2 inches of snow never paralyzes the city again.
In a recent video blog, Andrew Salkin, Chief Operating Officer of the Rockefeller Center's 100 Resilient Cities campaign, expressed that "resilience" doesn't just mean being ready to handle your region's typical troubles. "Resilience is about resilience to a stress and shock," he said, adding that New York learned this the hard way after Superstorm Sandy last year. "The type of stress and shock that New York had wasn't one it had planned for. So New York city spent a lot of time between now and last year developing climate risk controls." Still, he adds, the city has yet to go far enough to really be prepared the next time something Sandy-like hits.
Atlanta now has an opportunity to embed resilience into the city's fabric. Simply planning to stagger the commutes of people during the next storm emergency is missing the big picture.
We send our best to the citizens of Atlanta and hope they all return home soon -- and safely.
Related posts:
— Nicole Ferraro, Editor in Chief, UBM's Future Cities