Bixi, the Canadian company supplying bike share systems for 15 global cities,
filed for bankruptcy this week
. Should we cyclists toss in the stranger-sweat-on-seat-wiping towel now?
First let's address the state of Bixi, which is owned by Public Bike System Co. (PBSC), and some potential ramifications of its bankruptcy.
In case you're unfamiliar with Bixi, here's the deal: If you've used a shared bike in New York, Chicago, London, San Francisco, Boston, DC, Minneapolis, Melbourne, Chattanooga, Ottawa, Toronto, or Montreal (the base for Bixi, also the name of that city's bike share program), for example, you've interacted with Bixi's system. In cities like New York, Boston, and Chicago, Bixi supplies its equipment and technology through Alta Bicycle Share, which operates the systems and manages deployment.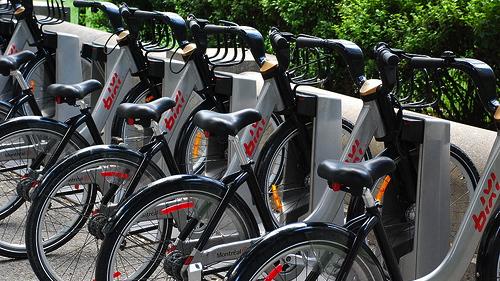 Now, due to its being $50 million in debt, Bixi has essentially been forced to file for bankruptcy protection by the city of Montreal, so that it can -- one hopes -- restructure and sort out its deep financial problems. One such problem is that Bixi owes its home city $31.6 million (left over from a $37 million city loan). It's also owed $5.3 million from New York and Chicago; however, the cities are withholding these payments due to the bugs and delays experienced with the service. In addition, Bixi has been in an ongoing legal battle with 8D Technologies, originally the software provider for Bixi stations -- until 8D refused to sell its software license and Bixi took the software creation upon itself. (Oh, and Alta wants $11 million in damages from Bixi for software delays.)
With so many systems reliant on Bixi, none of this is excellent news for the state of bike sharing, which doubled in the US in 2013.
Regardless, the messages coming from those who deal with Bixi are pretty consistent -- basically, We're committed to bike share, and it's all going to be OK. Or, as Dani Simons, director of marketing and external affairs for Citi Bike in New York, told me via email: "We are committed to running and expanding a world class bike share program here. We do not anticipate that yesterday's news will affect our ability to do so."
Similarly, here's what Alta said on its website:
Our systems across the country -- in New York City, Chicago, Washington DC, Boston, the Bay Area, Columbus, OH, and Chattanooga, TN -- are up and running and ABS will ensure that they continue to operate without interruption. Having served more than 15 million trips to date, we're focused on continuing to provide a convenient, fast, fun, and affordable means of transit.
So, no public-facing doom and gloom here. But it's worth considering what the future of bike share will, should, and shouldn't look like in order for it to remain a viable option for cities and their cycling public.
I have a couple of thoughts: For starters, this situation provides further evidence that cities like Copenhagen that are considering rolling out very high-tech bikes, chock full of GPS and electric motors and solar-powered flying wings (OK, just the first two), should calm down. Not to be too cute, but cities deploying bike share programs are still very much in their training wheels phase and should find out how successful these standard systems will work before trying to launch more complicated and more expensive ones.
Thought No. 2: Perhaps the decline of Bixi could present an opportunity for up-and-coming bike share companies like Social Bicycles, which recently partnered with the city of Phoenix on its new program, GR:D Bikes. Rather than having docking stations, Social Bicycles -- spearheaded by Future Cities 100-er Ryan Rzepecki -- allows users to use the web to find and reserve bikes and lock them wherever they like. This saves everyone from the strain and cost of deploying kiosks and docks, perhaps making the concept, rollout, and continued success more feasible for all.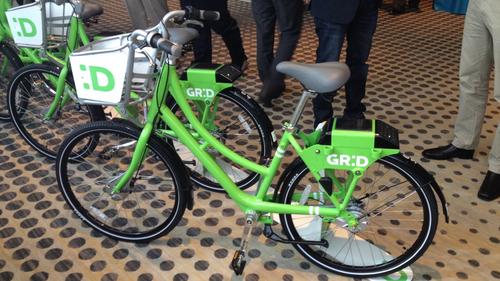 Time will tell how Bixi's financial crisis shakes out and what this means for cities offering its technology and infrastructure. But I feel confident in saying that, no matter what, bike sharing won't be going away anytime soon. So for organizations like Social Bicycles and others interested in getting in the game in a real way, now is the time to show your skills.
Related posts:
— Nicole Ferraro, Editor in Chief, UBM's Future Cities