Happy Friday, one and all. Another week is now behind us -- a distant memory. Let's see how our favorite mayors spent their time, shall we?
Boris Johnson: Save the skatepark!
We begin with an update from our fluffy-haired friend Boris Johnson, who surprised some with a statement this week about saving a skatepark at Southbank Centre in London. According to the BBC, the Southbank space is due for a £120 million revamp to turn it into a hub of art, culture, and retail. That last item would involve moving the park for skaters.
But while Johnson welcomes the redevelopment… he also insists that the skatepark, there since 1976, must stay:
Redevelopment should not be at the detriment of the skatepark, which should be retained in its current position. The skatepark is the epicentre of UK skateboarding and is part of the cultural fabric of London. It attracts tourists from across the world and undoubtedly adds to the vibrancy of the area -- it helps to make London the great city it is.
The mayor's message wasn't well received by the Southbank Centre, which had this to say in response: "We look forward to hearing how he intends to fill the financial gap that now stands between us and our ability to provide free art and culture to millions of Londoners."
Hmm… maybe a Barclay's sponsored skateboard-share program?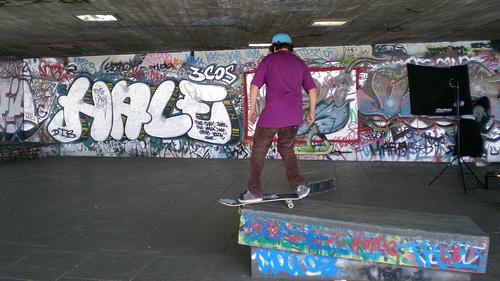 Bill de Blasio goes "Vision Zero" on traffic deaths
This week, the new mayor of New York, Bill de Blasio, turned his attention to what he called the "epidemic" of traffic fatalities in NYC. With his "Vision Zero" plan (not to be confused with zero vision), de Blasio intends to eliminate traffic-related fatalities over the next decade.
In all seriousness, street safety is an urgent matter. Already, 11 people in New York have been killed by cars since January 1, including seven pedestrians. As part of Vision Zero, de Blasio is engaging the Department of Transportation, the NYPD, the Department of Health and Mental Hygiene, and the Taxi and Limousine Commission to come up with a concrete plan to accomplish the following: redesigning dangerous corridors and intersections, adding more red light cameras, cracking down on drivers for speeding and the failure to yield to pedestrians, and quadrupling the number of "slow zones" (streets with a 20 MPH speed limit) to 52 within four years.
Oh yeah, de Blasio also ate pizza with a fork
Well, while we'd like to applaud Bill de Blasio for making street safety a top priority during his first two weeks in office, unfortunately his mayoralty also kicked off with a high-profile offense… eating pizza with a fork.
In New York, where pizza is kind of our thing, we get pretty bent out of shape about this issue (as previous offenders Donald Trump and Sarah Palin know). Far too shaken up by the incident to discuss it further myself, I'm just going to leave you with this video from the Daily Show's Jon Stewart. (You're welcome):
By the way, the site of the offense, Goodfella's Pizzeria in Staten Island, will be auctioning off the de Blasio fork for charity. In that case, perhaps it was a worthwhile faux pas… but, Mr. Mayor? Don't let it happen again.
Great Streets? Garcetti's driver strikes pedestrian
Back to the subject of street safety for the moment… it wasn't a great week for the "Great Streets" mayor of Los Angeles, Eric Garcetti, whose SUV driver struck a pedestrian while the mayor was in the car as a passenger. The 60-year-old woman, Juliet Nicolas, is said to be in "very stable" condition, and received a hospital visit from Garcetti himself.
But, in better Garcetti news
The LA Times reports that the mayor also announced a first-time plan to partner with the US Geological Survey on protecting the city's water supply, buildings, and telecommunications infrastructure from earthquakes. Seismologist Lucy Jones will meet with stakeholders this year in order to put forth policy recommendations later on.
Beijing mayor takes on air pollution
And finally, we conclude our world tour in Beijing, where, according to Reuters, the mayor has vowed to tackle the city's air pollution problem through a series of measures this year, including cutting coal use by 2.6 million metric tons, putting 15 billion yuan (US$2.4 billion) toward improving air quality, banning "heavily polluting vehicles," and promoting energy efficient ones. In 2013, Beijing reported 58 days of serious air pollution.
That ends our wrap for the day, but the discussion's just getting started -- so please join us on the message boards below.
Related posts:
— Nicole Ferraro, Editor in Chief, UBM's Future Cities