Pedestrian and cyclist safety is a huge issue for cities all over the globe. With fatalities on the rise, cities should look to technology as a lifesaver.
From cameras that detect automobile speed to sensors that track pedestrian movement, there are many safety technologies out there and on the horizon, including the following:
1. Speed cameras: An obvious way to try to make streets safer for pedestrians is to use speed cameras to ticket unruly drivers. Recently, New York City received approval from the state to deploy 20 speed cameras at undisclosed locations, providing those areas are within a quarter-mile of schools. If caught, drivers going 10 miles over the speed limit will receive a $50 fine in the mail.
"If you're hit by a car going 40 miles per hour, there's an 80 percent you'll die. If you're hit by a car going 30 miles per hour, there's an 80 percent chance you'll live," said former Transportation Commissioner Janette Sadik-Khan in a Future Cities video blog (below). "We don't need to have a police officer on every corner to control speeding cars but we can use camera technology to better monitor that behavior and get people to do the right thing."
How well the speed cameras work, however, is debatable. Chicago deployed these years ago, and the results have been controversial. In 2012, Mayor Rahm Emanuel's office claimed a 60 percent reduction in fatalities at lights with speed cameras, but a study by the Chicago Tribune, based on federal government data, found the following:
Instead of the 60 percent reduction the mayor touted, the Tribune's analysis of accidents for the same locations revealed a nearly 26 percent reduction -- one that mirrored a broader accident trend in the city and across the nation. The difference? The city said fatalities dropped from 53 to 21 in the targeted zones, but the federal statistics showed the before-and-after numbers were 47 and 35.
2. Countdown clocks:
Another technology deployed in New York, Washington, DC, San Francisco, and others are timers, or countdown clocks, that let pedestrians know how many seconds they have to safely cross the street.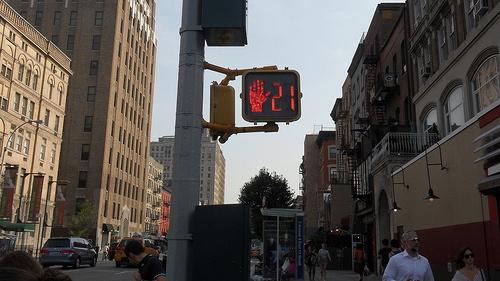 While it seems obvious that these would make streets safer for all, one study of Toronto's traffic data, conducted by researchers at Erasmus University in Rotterdam, concluded that while pedestrian fatalities are down at intersections with timers, car crashes are up. The researchers attribute this to vehicle drivers watching the countdown clocks and speeding up as time is running out.
That theory seems speculative at best... and drivers' impatience should only be more of a reason to give pedestrians as much of a warning as possible before walking into the road.
3. Pedestrian sensors: Cities that truly want to become "people friendly" should be looking into ways to sync pedestrian movement with traffic signals. Take the product C-Walk, from Belgium-based vendor Traficon, which uses camera and sensor technology to detect pedestrians and send a signal back to the traffic light to extend the green light for pedestrians (and the red light for cars).
Other vendors offer similar technologies, like Australia-based Traffic Tech, which sells pressure sensitive footpads. The premise is much like that of C-Walk in that the pad detects pedestrians and sends a signal to traffic lights; however, this product is reliant on people actually stepping in the right place.
4. Connected street signs: As we venture into the world of the Internet of Everything, and we teach our infrastructure to speak with us, will a message from a street sign telling pedestrians to be careful make any difference? I wondered this while reading about a project called "PopPop," currently on display in New York City, and created by Master's students at NYU's Interactive Telecommunications Program. The PopPop website describes it as follows: "PopPop is a new type of living pedestrian signal that interacts with his street corner. Are there too many jaywalkers? How crowded is the corner? Is it rainy? PopPop knows and reacts accordingly."
The real purpose of the PopPop experiment is a bit underwhelming: "Pop Pop is a project to re-imagine New York's Pedestrian Signals -- mainly, to see if they can be imbued with personality and emotion that might make daily life a bit more fun and interesting." OK, fine, but what could the pedestrian-safety-minded PopPop of tomorrow look like? Perhaps it could detect a speeding car from a few blocks away, or warn pedestrians that streets are icy, or distract them with their favorite YouTube clips until it's safe to cross... I mean, the possibilities are endless when we're talking about humanizing street signs, right?
Surely there's more to come as everything urban becomes interconnected. But for the most part, cities can do all of the above in the name of pedestrian safety now. Why wait?
Related posts:
— Nicole Ferraro, Editor in Chief, UBM's Future Cities