Welcome to our first installation of From the Mayor's Desk for 2014! A new year comes with many new beginnings, so let's start with the new family living in New York's Gracie Mansion.
Bill de Blasio sworn in, and snowed in: The new mayor of New York, Bill de Blasio, was officially inaugurated on Tuesday, January 1, at a celebration that included such celebrities as Bill and Hillary Clinton, actress Cynthia Nixon, Broadway star Patina Miller, and others.
In his speech (which you can see in the above Daily News video), de Blasio stuck to his message of repairing inequality in New York: "We are called to put an end to economic and social inequalities that threaten to unravel the city we love. And so today, we commit to a new progressive direction in New York," he said. De Blasio made some specific claims as well, such as his intention to expand New York's Paid Sick Leave law; a promise to require developers to build more affordable housing; and a pledge to raise taxes on the "very wealthy." He said: "Those earning between $500,000 and one million dollars a year, for instance, would see their taxes increase by an average of $973 a year."
Well, before he could get to any of that, hot on the heels of his entry into City Hall, de Blasio faced his first major challenge: preparing the city for a snowstorm. On Thursday, the new mayor met with NYC Sanitation Commissioner John J. Doherty to get the city prepared. By 7:00 a.m. Friday morning, six inches of snow had fallen on Central Park; 10.5 inches in areas of Queens like South Ozone Park. "New Yorkers need to be extremely careful going outdoors," said the mayor in a statement this morning. "The best things people can do are to stay off the roads so we can clear them as fast as possible, and to check in on elderly and vulnerable neighbors."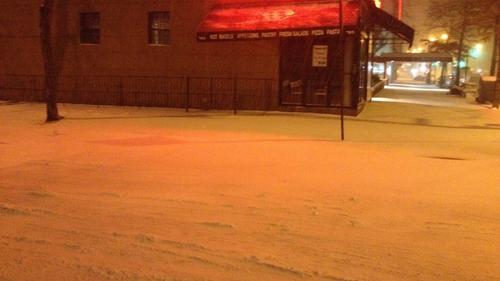 Of course, de Blasio isn't alone in handling a snowstorm during his first week in office. Another newly minted mayor braving the storm this week is Mike Duggan of Detroit, who decided to hit the streets in a snow plow alongside a city worker. "I'm going to to go out and visit one of the yards and ask for one of the drivers to take me out in a truck," he said on Wednesday at a press conference. "I really want to start by understanding the challenges that our workers face in clearing the snow."
Rahm Emanuel appoints new DOT chief in Chicago: New York isn't the only city with a new DOT Commissioner. Over in Chicago, Mayor Rahm Emanuel has appointed Rebekah Scheinfeld -- the Chicago Transit Authority's SVP and Chief Planning Officer -- to be the new commissioner of the Chicago Department of Transportation (CDOT). As the mayor said in a statement about this appointment: "In two and a half years, Chicago has become a national leader in expanding transportation options and rebuilding infrastructure. Rebekah will continue to build on our successful record and ensure that every Chicagoan has access to world-class transportation systems."
Rob Ford will run again! It pains us to even discuss this, but here we are... Not only will Rob Ford not be stepping down as the Mayor of Toronto, but he has filed to run again!
"My track record speaks for itself," he said. "The city is absolutely booming. We're building a subway. I've dealt with issues other mayors haven't dealt with."
"Ford more years," he said.
We're just going to leave that one there to settle in.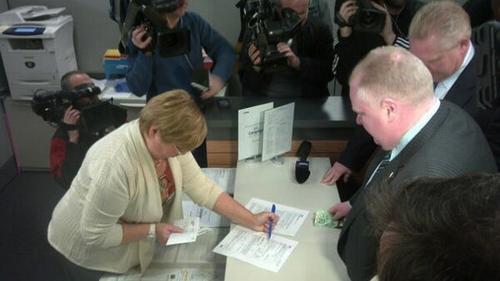 Boris takes credit for The Beatles: And to end on a light and fluffy note ("fluffy," of course, referring to Boris Johnson's hair), the beloved mayor of London has offended the mayor of Liverpool by suggesting that London was more instrumental to the Beatles success than Liverpool was. In an interview with publication NME, Liverpool Mayor Joe Anderson has called Johnson "a fool," and his comments "beyond ludicrous." Further, said Anderson, this wasn't Johnson's first offense:
Boris has already made a fool of himself with comments about Liverpool -- both on Hillsborough and in accusing the city of "wallowing in pity" for holding a memorial service for British hostage Ken Bigley, who was beheaded in Iraq. These were obviously more serious issues than popular music, but nevertheless it's another embarrassing gaffe by him, which he'll have to apologise for.
Needless to say, no apology has yet emerged from the Johnson office... Oh Boris, something tells me you're going to carry that weight a long time.
Previous Mayor's Desk Updates:
— Nicole Ferraro, Editor in Chief, UBM's Future Cities