The new year began in NYC with the swearing in of Mayor Bill de Blasio, whose list of appointments to his administration includes a new Transportation Commissioner, Polly Trottenberg.
The appointment of Trottenberg as DOT head is significant: For the past six years, the New York City Department of Transportation has been led by Janette Sadik-Khan, whose transformative efforts have resulted in hundreds of on-street bike lanes, the largest bike-share system in the country, over 50 pedestrian plazas, and safer streets overall. In many ways, Sadik-Khan has put New York on the international stage as a city that is both progressive and aggressive in planning its streets for the future. (See our "exit interview" with Janette Sadik-Khan below, who names safer streets as her chief accomplishment.)
With a new administration taking hold, and with a mayor who has before referred to Sadik-Khan as a "radical" and has waffled when it comes to pedestrian plazas and bike lanes, it's been up in the air whether or not a new DOT head would continue with Sadik-Khan-like progress... until now.
With his appointment of Polly Trottenberg, Bill de Blasio has demonstrated a commitment to more progressive street planning in New York. Trottenberg, who was previously serving as Under Secretary for Policy at the US Department of Transportation, has pledged to increase cycling, expand Bus Rapid Transit (or, as it's called in NYC, Select Bus Service), and create safer streets overall. In a statement, she said:
We are committed to the maxim that safety -- for everyone who uses the roads, including pedestrians and cyclists -- is our top priority... From improving our roads, bridges and waterways to better serve our citizens and businesses, to connecting New Yorkers to jobs and opportunities through improved high-speed bus service, to expanding biking across the five boroughs, we can have a transportation system that is safe, efficient and accessible to all.
Encouraging words -- and it's further encouraging that Trottenberg has long been advocating for cyclists and pedestrians. In a 2011 interview with BikePortland.org, she spoke about the need for "continued political energy" and focus on the benefits and importance of bike and pedestrian projects; and she also highlighted the "safety in numbers" phenomenon that occurs when more cyclists are on the road.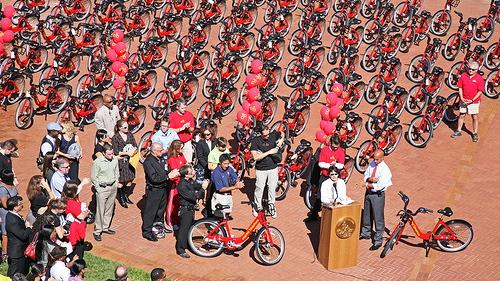 All of that should be music to the ears of many who were concerned that a new administration would cave to the demands of motorists.
Still, these are different days for New York. Having a progressive transportation commissioner is one thing, but it remains to be seen how such a figure will be able to operate in a de Blasio administration, versus in a Bloomberg administration where there was a clear commitment to greener streets, and to pushing controversial projects through at all costs. On the subject of pedestrian plazas, for example, which were highly controversial (and are now extremely successful), Trottenberg said at a press conference: "We're going to take a look also at pedestrian plazas -- but we're going to make sure that we do it in a respectful way, working closely with the communities and stakeholders that care."
Considering the DOT under Sadik-Khan always sought input from the public before moving forward with the rollout of plazas, Trottenberg's vague dig about carrying out these developments in "a respectful way" comes across as a head scratcher. Public plaza advocates would do well to make sure their voices are heard loud and clear by de Blasio, Trottenberg, and friends, who seem less enthusiastic about plazas than their predecessors were.
Regardless, as the NYC DOT bids farewell to the fearless Sadik-Khan, and as more cities embark on transforming their streets, Trottenberg's appointment sends an important message to cities everywhere that it's hard to turn back the clock on progress (even if you kind of want to!). And that's a nice thought with which to start a new year.
Related posts:
— Nicole Ferraro, Editor in Chief, UBM's Future Cities