Greetings: I've just returned from a brisk Citi Bike ride to City Hall offices around the globe, and I have lots of mayoral news for you. Read on, urbanites.
Bogota mayor ousted; supporters rally: On Monday, Alejandro Ordonez, Colombia's inspector general, announced that Bogota Mayor Gustavo Petro of Bogota would be ousted from office and banned from politics for 15 years. Ordonez is pointing fingers at Petro's decision to fire Bogota's private trash collectors last year and replace them with a city-run service, calling this a violation of "constitutional principles of commercial competition and freedom." Petro, however, isn't going quietly, and neither are supporters -- thousands of whom have filled the streets in protest of his removal.
It's New Mayors Day at the White House! What better day than Friday the 13th for newly elected mayors in the US to do something truly terrifying and visit the White House?
That's the case for 15 such urban leaders today, including New York Mayor-elect Bill de Blasio; LA Mayor Eric Garcetti; Boston Mayor-elect Marty Walsh; Minneapolis Mayor-elect Betsy Hodges; and others. The topic du jour is job creation, and the potential for federal-local partnerships.
Chicago mayor fasts for immigration: Over in Chicago, Mayor Rahm Emanuel declared his decision to go on a 24-hour fast in the name of immigration reform. Speaking to a group of Latino parishioners at St. Pius Catholic Church in Pilsen, Emanuel said, "It is essential to remind the United States Congress that there is support for immigration reform throughout the country."
While efforts like this can easily be cast off as publicity stunts, we appreciate any public statement that promotes a better future for all. Kudos, Rahm.
Los Angeles hosts gun buyback: And speaking of efforts that benefit the greater good, over in Los Angeles, Mayor Eric Garcetti is getting set to host the first gun buyback program of his term this coming weekend. While it's the first one for Garcetti, it isn't the first program for LA. Rather, as Garcetti told CBS2 of Los Angeles, the program has taken 11,000 guns off the streets in the last six years; and he anticipates another 2,000 to be turned in this weekend. The city will give $100 gift cards for handguns, shotguns, and rifles; and $200 gift cards for assault weapons.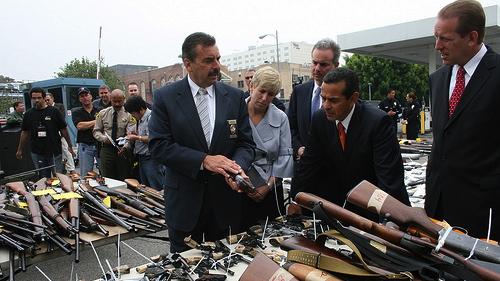 And in other gun-related mayoral news, Mayor Michael Bloomberg has released his final report as co-chair of Mayors Against Illegal Guns, a bipartisan coalition. According to a statement on NYC.gov, the report, which focused on investigating online gun sellers, found that "nearly one-in-three gun ads on a single website – Armslist.com – are posted by high-volume sellers, who are selling more than 34 firearms a year without a license... At this rate, these unlicensed sellers would transfer more than 243,800 guns each year, many in violation of federal law." Released Thursday, the new report comes just a couple of days before the one-year anniversary of the massacre at Sandy Hook Elementary in Connecticut. (Since then, according to the report, 12,000 Americans have been killed by gun violence.)
Cincinnati mayor offers glimmer of hope for streetcar: John Cranley, Mayor of Cincinnati, campaigned as an anti-streetcar mayor, promising to halt construction on the infrastructure project which is in the midst of its first phase. However, according to Cincinnati Business Courier, now the new mayor is making a last attempt to save the streetcar by calling on the private sector to foot the bill for annual operating costs, estimated at $4.5 million, before fare collection. The city has until December 19th to restart construction, or have $45 million in federal funding pulled.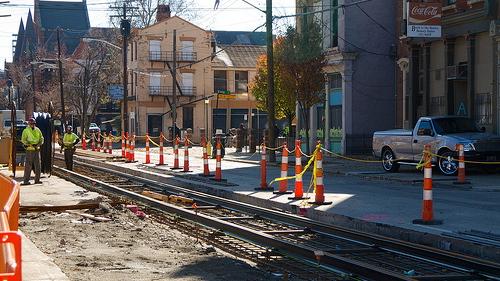 Filner, sentenced; Ford, sued: And on this hairy scary Friday the 13th, let's wrap it up with an update on our favorite mayors whose last names start with "F"? We begin with Filner, the ex-mayor of San Diego, who received his sentence on Monday of three months of house arrest; followed by three years of probation, for sexual harassment. See ya never, buddy.
And over in Toronto, Rob "I have no filter" Ford has been handed a defamation lawsuit for suggesting in an interview that Toronto Star reporter Daniel Dale takes photos of children. According to the AP, "Ford said he didn't 'want to say that word but you start thinking what this guy is all about.'"
That's all for now, folks. But don't fret! The conversation never really ends, just so long as you weigh in on the message boards below. Join us there, would you?
Previous Mayor's Desk Updates:
— Nicole Ferraro, Editor in Chief, UBM's Future Cities