Thanksgiving is upon us in the US, and keeping in the spirit of the tradition we started in 2012, Future Cities is ready to round up some urban turkeys.
Last year, we defined an urban turkey as "a person, place, group, or thing that is in one way or another holding our cities back from being livable, sustainable, and/or prosperous." Keeping with that spirit, what follows is our overview of five happenings from the year gone by that have been backward, unproductive, and detrimental enough to be worthy of turkey status.
We're going in order from least to most offensive -- from drumsticks to full-blown, stuffed turkeys, if you will. OK, here goes.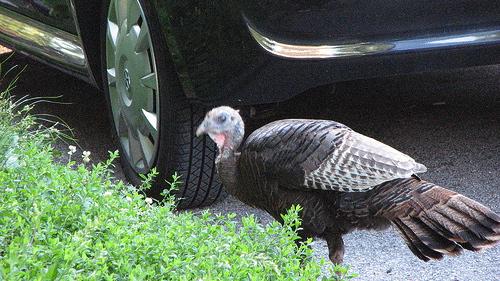 5. The New York Public Library "renovation"
The NYPL board earned its Turkey Award honestly, working hard to alienate nearly every architectural critic, preservation scholar, and fan of the current library with an expensive, half-baked scheme to sell two specialty library branches and gut the 1911 landmark on 42nd Street and Fifth Avenue. Into the hollowed shell of that noble edifice, the NYPL wants to insert a questionable structure by the British starchitect Norman Foster. To add insult to injury, the plan calls for shipping precious research materials to somewhere in New Jersey.
It gets worse. The project is being undertaken largely in secret, incurring enormous expenses as the NYPL board plays peekaboo with its plans. Ultimately, the directors will have to face an embittered public, feathers and all. Gobble, gobble.
4. Rio's Olympic failings
Rio de Janeiro earns a spot on our list for its endless failings as it prepares for the 2016 Olympics. From being behind schedule to going over budget, having the Olympic head resign, neglecting the needs of citizens in order to prepare for the games, and recent concerns that water pollution will pose a risk to athletes, Rio's Olympic preparations have been a train wreck.
But, hey, maybe Mayor Eduardo Paes will succeed with his courting of Woody Allen, and he'll want to make a film of this debacle. Silver lining found.
3. Weiner & Filner: Thanks for the memories
We must award turkey status to both former Mayor Bob Filner and former mayoral candidate Anthony Weiner for… well… not being able to control themselves.
Surely a year isn't a year without a sex, sexting, or sexual harassment scandal of some sort, but Weiner and Filner took their moral dilemmas to new heights by refusing to leave the spotlight. For their lewd affairs and narcissism, these two turkeys deserve to be stuffed together.
2. Kolkata's cycling ban
What's a city to do when it has more bicycles than cars? Ban the cycles, natch. This backward strategy, contrary to every modern tenet of sustainability and common sense, earns Kolkata's local government its place with the birds.
Not only has the city closed 174 streets to bicycles, handcarts, tricycles, and other types of nonmotorized vehicles nearly all the time. It's actually fining those who violate the rule. Worldwide outrage hasn't woken Kolkata's ruling turkeys from their self-imposed dreamland.
1. Toronto Mayor Rob Ford
What can we say about the mayor of Canada's largest city? Others have called him an alleged drug addict, drunk driver, alcoholic, workplace bully, and walking circus act. From our perspective, this mayor's questionable politics and outrageous public behavior earn him the dubious status of this year's No. 1 Urban Turkey.
Please take the seat next to the stuffing, Your Honour.
— Mary Jander, Managing Editor; and Nicole Ferraro, Editor in Chief, UBM's Future Cities