As another week ends, another investigation of our world's mayors begins. Follow us on our journey through the desk drawers of some prominent mayors, won't you?
Boris: Leave the rich alone! Boris Johnson, Mayor of London, wants you to stop picking on Rich Heap... oh, no, wait... he wants you to stop picking on the rich. This was a point he made clear in his appropriately titled Telegraph column, "We should be humbly thanking the super-rich, not bashing them." As Johnson wrote:
We should be helping all those who can to join the ranks of the super-rich, and we should stop any bashing or moaning or preaching or bitching and simply give thanks for the prodigious sums of money that they are contributing to the tax revenues of this country, and that enable us to look after our sick and our elderly and to build roads, railways and schools.

Indeed, it is possible, as the American economist Art Laffer pointed out, that they might contribute even more if we cut their rates of tax; but it is time we recognised the heroic contribution they already make.
Surely the super rich contribute a great deal to our society, but "heroic contribution" may be pushing things a bit. Aren't they also the same lot that took the economy down a few years ago?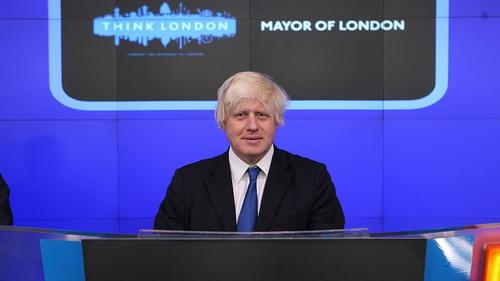 Anyway, if there is one person this message doesn't resonate with, it's the incoming mayor of New York, Bill de Blasio, who won the recent mayoral election thanks in large part to his own tirades against the super rich dominating this city. Let's turn next to him, shall we?
Mayor-elect Bill de Blasio builds his transition committee: Bill de Blasio, who will take over as mayor of New York City in January, has named 60 people to his "transition committee." They include a range of individuals, from the actress and advocate Cynthia Nixon, to former White House Deputy Chief of Staff Harold Ickes, to Karen Brooks Hopkins, president of the Brooklyn Academy of Music, and more (you can see all 60 names here). The members of the transition committee will help de Blasio choose who gets to serve on his administration (allegedly, these people have no stated interest in serving themselves).
As de Blasio said in a statement, "My charge to the transition team is to identify women and men from every part of our city and walk of life that share a commitment to progressive and competent city government."
Moscow mayor puts the kibosh on mosques: Moscow Mayor Sergei Sobyanin has decided that no more mosques will be built in his city. Why? Well, according to an interview Sobyanin did with daily paper Komsomolskaya Pravda, it's because mosques apparently invite outsiders and encourage illegal immigration.
"Muslim believers who come on religious holidays come from other regions. Between 60 and 70 percent of them are outsiders. We cannot provide for all comers. I think it's not necessary," he told the paper.
Portland mayor fires top administrator: Charlie Hales, mayor of Portland, fired Jack D. Graham, Portland's top administrator at the Office of Management & Finance, this week due a financial mismanagement scandal which became a "distraction," according to the mayor.
In a statement, Hales said: "I want this city to do its work without distraction. Controversies involving OMF have become a distraction... As the commissioner in charge of OMF, I believe it is now time to make a change. I am therefore ending Jack Graham's employment agreement with the City of Portland."
The first of several problems for Graham included his attempt in 2012 to protect his office from budget cuts by "diverting about $200,000 in water and sewer funds held in a reserve account," according to Oregon Live.
Graham will be leaving his position by January 30th.
And gee, what better place is there to end than that? Don't forget to chime in on the boards before that warm and fuzzy feeling fades.
Previous Mayor's Desk Updates:
— Nicole Ferraro, Editor in Chief, UBM's Future Cities