When dealing with a city or urban area that runs the risk of being a target for terrorism, is there such a thing as too much security?
The question came to mind for me last week when reading in The New York Times that Lower Manhattanites are filing a lawsuit against the NYPD over plans to turn the new World Trade Center site into a "fortress."
The site, which is still under construction, is expected to have its security features in place by 2015. This includes a whole range of measures, like placing bollards (or, barrier posts) around the entire site; installing several 11-foot-tall guard booths; and closing the streets in and around the site to normal vehicle traffic. (Drivers who regularly access the area, like local residents, will have the option to enroll in a "Trusted Access Program," to make entering and exiting a bit easier.) While cyclists and pedestrians are free to roam about, bikes may need to be walked, according to the NYPD.
You can see a rendering of some of the planned security features in the image below: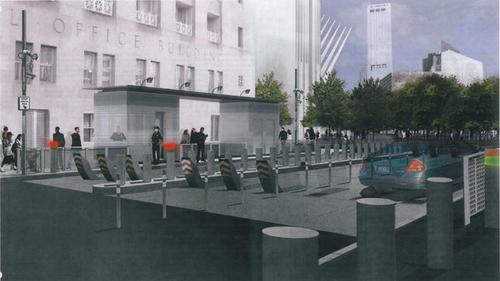 As you can imagine, embedding security into the very design of this site was of utmost importance for all involved... both for the sake of protecting the new World Trade Center towers from future attacks; and to make prospective corporate tenants feel safe enough to bring their offices there. For more on the challenge of securing the area, here's our video with Janno Lieber, President of World Trade Center Properties:
Nevertheless, not all are buying into the need for security measures of the kind displayed above... hence, the lawsuit.
I can understand their ire. Looking at the NYPD's rendering, the site looks more like a border checkpoint than a high-profile area of New York City. And, furthermore, while these measures might make it harder to set off car bombs, the fact is that the Twin Towers were taken down by planes.
This is a similar point to one that was recently made by John Dales, Director of Urban Movement, who wrote on this site about the bollards surrounding the new square at King's Cross station in London. As Dales argued, the bollards can only prevent so much, and they can also make it extremely difficult for people to get around on foot. Essentially, they render the space much less inviting.
Like CCTV cameras and facial recognition software, urban design plays a key role in keeping our cities safe. While keeping the World Trade Center safe is no easy (or enviable) feat, it's also essential to strike a balance between implementing design measures, like bollards, and maintaining the livability of streets.
The World Trade Center has spent the past 12 years trying to come back from the dead. It's understandable that residents are concerned that "fortress-like" security measures will end up resulting in just the opposite outcome.
Related posts:
— Nicole Ferraro, Editor in Chief, UBM's Future Cities