As we bid farewell to another week, we do so with our mayors on our minds. (But, in the words of Willie Nelson, weren't they
always
on our minds?)
Time for a musical interlude!
Okay, now that that's over, we might as well get the increasingly depressing Rob Ford stuff out of the way. Here goes:
Rob Ford, still a giant mess
In Toronto, things just get weirder, as Mayor Rob Ford continues to defend his ability to govern the city despite rising pressure to resign. This week brought new revelations of misbehavior associated with alleged substance abuse, a fresh spate of shocking remarks and threats of litigation from hizzoner (delivered in a ridiculous sports jersey), a shunning by city councillors, and a statement by Ontario Premier Kathleen Wynne in which she indicated that the city may need to reach out for provincial assistance to get back on track. What a mess! But stay tuned. It's bound to get better. This mayor's ability to up his own ante of bad behavior on a nearly daily basis hasn't disappointed us yet. [Thank you to our part-time Canadian Mary Jander for writing this blurb on Ford.]
Boston's Menino heads to college
Tom Menino, Boston's 20-year mayor who is leaving office at the end of this year, has decided that his next venture will be to help launch a new urban affairs institute -- the Initiative on Cities -- at Boston University. While Menino won't be teaching classes, he will appear as a guest lecturer from time to time, and will be inviting other mayors -- like Michael Bloomberg -- to do the same. Menino's salary at BU is expected to be around $157,000.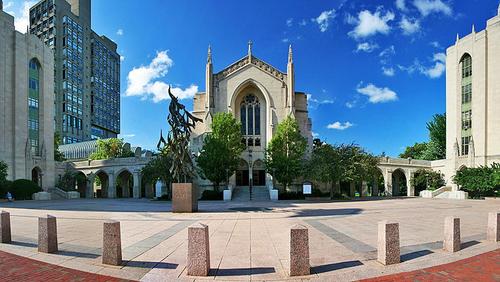 Ugandan mayor found guilty
Erias Lukwago, lord mayor of Kampala -- Uganda's capital city -- has been found guilty of "abuse of office, incompetence and misconduct," according to ABC News. The news organization explains that Lukwago was accused of encouraging the public not to pay taxes, disobeying directives, and failing to hold meetings and sign committee reports. While Lukwago now faces potentially being kicked out of office, he won't be going quietly. As he said in a statement: "I want to send a message to [President] Museveni that no amount of intimidation or suppression will make me bow before you."
Iraqi mayor shot to death
Adnan al-Jalbawi, the mayor of the Iraqi city of Falluja, was gunned down and killed during bombings that killed 24 others. CNN reports that the mayor was visiting a sewage pumping station when the shots were fired.
Former Detroit mayor expected to pay up
Former Detroit Mayor Kwame Kilpatrick recently started a 28-year jail sentence for crimes committed during his time as mayor. But the fun doesn't stop there. According to the Associated Press, federal prosecutors are now ordering Kilpatrick to pay $4.5 million for "widespread corruption under his watch." Good luck with that one, Kwame.
That's about all the updates we can stomach today, but before we go, it's worth noting that our recent Future Cities poll suggests that we urbanites have little patience for mayoral misbehavior of any kind. Responding to the question "When should mayors be asked to resign?" over half of our poll respondents chose "All of the above." See what that includes for yourself, below.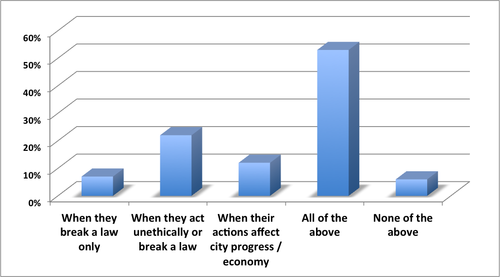 With that in mind, we'd love to hear your take on some of the misbehaving mayors who made our wrap today; and any others we've neglected to call out.
As we conclude on a low note of mayoral corruption and jobs done poorly, let's have Angela Lansbury sing us out:
Related posts:
— Nicole Ferraro, Editor in Chief, UBM's Future Cities