Mayor Bloomberg's ambitious plan to
rezone Midtown East
in NYC was withdrawn this week, due to a lack of support by the City Council. Many realize this is good news.
As Christine Quinn, City Council Speaker (and former mayoral candidate), and Councilman Daniel Garodnick, put it in a statement: "A good idea alone is not enough to justify action today... After extensive negotiations, we have been unable to reach agreement on a number of issues in the proposed plan."
Indeed, it's not that New York's outgoing mayor is wrong about the need to rezone and redevelop the area. Rather, it's that the plan came across as a rush job, placing the priority on the need to build taller towers to compete with business districts in London, Shanghai, and beyond. Both opponents and advocates of the rezoning plan alike worried that, as is, Bloomberg's proposal didn't consider some crucial needs for the area surrounding Grand Central; and that building a taller business district without addressing those needs could negatively harm the area.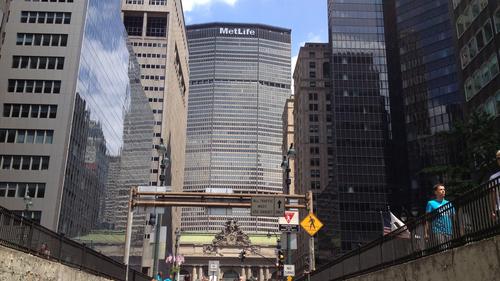 "There was no need to rush it, except Bloomberg had some misplaced desire for it to happen under his watch," said Barbara Campagna, founder of the architectural firm BAC/A+P, in an email to me today. "Now it can be done right, with a comprehensive plan, public process, and a plan that allows for growth, while protecting the heritage and feel of the area."
So what would doing it "right" look like? There are a few things that must be considered.
Protect the heritage: Preservationists were among the many opponents to Bloomberg's rezoning plan, due to the fact that the plan would have allowed for aging buildings to be replaced with new, modern office towers. As Campagna noted in the comment above, there's now an opportunity to "protect the heritage" of the business district. "There are a variety of buildings which need to be evaluated for landmark status/district," she said.
Improve the public realm: If you've ever attempted to make your way around the Grand Central district, particularly during rush hour, you're likely to know that it's not the most pleasant place to be. Indeed, it's one of those New York areas that bodies are ushered through by the sheer force of foot traffic, rather than voluntarily. As Vin Cipolla, President of the Municipal Art Society, told Future Cities last year at the MAS Summit, making the Grand Central public realm more humane and efficient is key to redeveloping this area. (See Cipolla discuss this issue in the video blog below.)
Invest in transportation first: One of the primary fears surrounding Bloomberg's rezoning plan was that the mass transit system on Manhattan's East Side wouldn't be able to accommodate an influx of riders coming from the proposed new office towers.
Indeed, the Lexington Avenue line, which services the East Side, is already dangerously overcrowded. And while Bloomberg's plan would have pre-funded $100 million in mass transit and public space improvements, that's at least $100 million short in terms of what the area actually needs to sustain the kind of population growth that increased development would bring. (See: Waiting for a Subway, Since 1929.)
So, is the plan to rezone Midtown East dead for good? Not exactly. Mayor-elect Bill de Blasio praised the City Council for hitting "pause" on the development but vowed, in a statement, to come up with a new proposal next year: "We must continue this process in earnest upon taking office, and I commit to presenting a revised rezoning plan for the area by the end of 2014," he said.
Growing the Grand Central area in order to compete with soaring, international business districts may well be key to keeping New York City competitive in the future. But when this plan is revisited, it must be done in a comprehensive way that accommodates the needs of all New Yorkers in that area -- and not just real estate developers.
Related posts:
— Nicole Ferraro,

, Editor in Chief, UBM's Future Cities