The City of Phoenix, Arizona, will get a bike share program, starting later this year, said Mayor Greg Stanton at
NACTO's Designing Cities conference
today.
The program is called "GR:D" (pronounced "grid"). As Stanton said, he wants everyone riding to "smile and be happy." So... get it? GR:D.
Well, if you can get past that silly naming choice, then read on -- because there are a few notable features that could potentially set GR:D apart.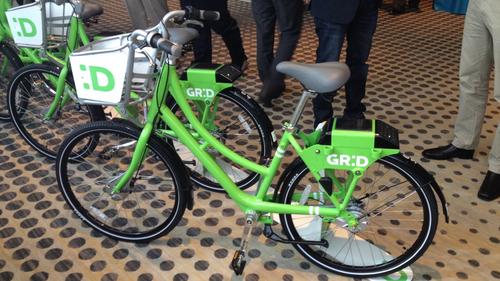 For starters, the bike-share program will go beyond Phoenix to serve the regional area. After a small test rollout in December, Phoenix is due to have 500 bikes by February, after which the program will expand to include 1,000 bikes, reaching Mesa and Tempe. The system will be built largely around Phoenix's light rail stations.
What's more, though, is that GR:D is being powered in partnership with Social Bicycles, a company headed up by Ryan Rzepecki (named one of our Future Cities 100 innovators), which allows people to use the web to find and reserve bikes, and lock them wherever they choose. This is the first major city rollout that Social Bicycles has been a part of, though projects are planned for Tampa and Orlando, Fla., and elsewhere.
While the idea behind Social Bicycles is that docking stations are unnecessary, Phoenix will, indeed, have set hosting locations for the bikes. However, as Rzepecki told me in an interview today, users will have the option to pay an extra fee if they want to lock the bike in an undesignated area.
"Say you're running late to a meeting and you want to go right to that building," said Rzepecki. "Then the next user who takes that bike to a hub location that needs a bike will get a credit. So it's hopefully self-balancing."
Rzepecki said that the fee for those who lock the bikes outside of their hubs will be around $2.50 (having learned during test programs that, in setting the lock-outside-the-hub fee at $10, all users returned their bikes straight to the hubs).
Users of GR:D will have the option to use the bikes for an hour, paying $5 hourly; $30 monthly; and $79 annually. Going over the hour will cost each user $3 per 30 minutes.
The program itself will be funded partly by grants, as well as an investment from the bike-share operator, CycleHop. Further, the city is seeking local sponsorship from those businesses that would like to have bikes hosted near their shops.
"It drives business to them. They benefit from that amenity," Josh Squire, managing director of CycleHop, told me today. "If they want a station right in front of their business, they can host it."
Rather than a revenue share model, Social Bicycles will take a monthly fee from CycleHop for providing the connectivity on the bikes and software.
Between the attempts to implement the theories of Social Bicycles, and to make this bike-share a regional program, GR:D is certainly ambitious. If there's one concern I'd raise it's that Phoenix tends to suffer from "If you build it, they will come" syndrome... except, as is the case with downtown Phoenix, they haven't come. As one city transportation official told me at a reception here Sunday night, it's surprising to walk around the streets and see so few people.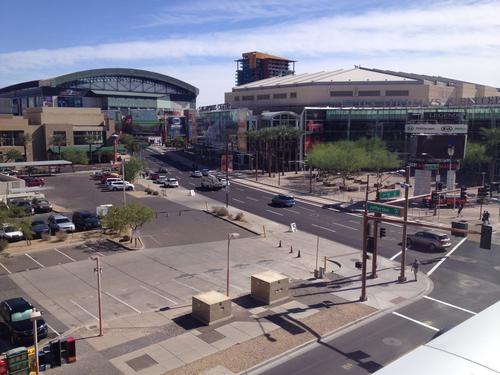 Will the addition of bike share help that?
That may depend on the availability of bike lanes. While the city of Phoenix currently has bike lanes, cyclists want more. During the morning's sessions at NACTO, Wylie Bearup, director of transportation for Phoenix, noted that he receives a lot of requests for more bicycle infrastructure, but he lacks the funding to support them.
CycleHop's Squire doesn't see this as a big problem.
"One thing that bike share drives is additional investment in bike lanes," said Squire. "There's always that chicken-and-egg thing of 'What do I put first?' We find that when you put bike share first, bike lanes come right after or at the same time."
Related posts:
— Nicole Ferraro,

, Editor in Chief, UBM's Future Cities